CSR
The SoftBank Group fulfills its social responsibility with regard to "maximizing enterprise value" and "contributing to people and society" as stated in the corporate philosophy of the Group. The Group also lives up to trust and expectations of all stakeholders by increasing its enterprise value through reinforcement of its management organization, compliance with laws, regulations and social norms and careful information security management.
CSR News
Feb. 25, 2015

Oct. 17, 2014

May 28, 2014
CEO Message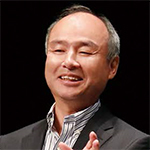 Guided by the SoftBank Group CSR Principles, which are based on our corporate philosophy, we are building stronger foundations of trust in areas such as compliance and information security to live up to the expectations of all stakeholders, including customers, shareholders, employees and business partners.
CEO Message
SoftBank Group CSR
CSR principles of the SoftBank Group
CSR promotion structure of the SoftBank Group
Major achievements in FY2012 and targets & plans for FY2013
What the SoftBank Group can do
Information is a lifeline. The SoftBank Group carries out its social responsibilities as a company responsible for critical infrastructure.
The SoftBank Group is creating a healthy Internet society.
The SoftBank Group is working to inspire the next generation with dreams and ambitions.
The SoftBank Group is committed to protecting the earth for future generations.
The SoftBank Group stays customer-focused.
The SoftBank Group strives to meet shareholders' expectations.
The SoftBank Group nurtures its employees' motivation and pride.
The SoftBank Group evolves together with business partners.
Management
The SoftBank Group is committed to maintaining high standards of management and corporate governance.
The SoftBank Group has a carefully planned internal organizational structure and maintains close relations with government agencies.
To SoftBank Group directors and employees, compliance is not merely about obeying laws, but also about acting with high ethical standards.
The SoftBank Group works to ensure full security by maintaining a strong information security management system.