[MOVIDA ENTERTAINMENT Inc.] Agence France-Presse (AFP), MOVIDA ENTERTAINMENT Inc., and Creative Link Corporation jointly launch news community site called AFP BB News
New interactive news community site enables readers to participate by sending information to each other
Feb. 3, 2006
Agence France-Presse (head office: France; CEO: Pierre Louette;hereafter "AFP"), MOVIDA ENTERTAINMENT Inc. (head office: Minato-ku, Tokyo; representativedirector and president: Shingo Kunieda), one of SOFTBANK Group companies, andCreative Link Corporation (head office: Minato-ku, Tokyo; representative directorand president: Masao Kokado) have jointly launched "AFP BB News (http://www.afpbb.com)", a highly-interactivenews community site that enables general readers to transmit information. OnFebruary 3, 2006, a community blog site, "Actiblog (http://www.actiblog.com)" will also belaunched. The site enables readers to quote news articles distributed through AFP BB News.
AFP BB News is an unprecedented news community site in the newsindustry. Unlike conventional news sites in which news items are singlydelivered to readers, AFP BB News allows the opinions and views expressed by general readers on high-quality news articles and photographs distributed by AFP to be posted on blogs and messageboards. Details of the service are given below.
Outline of AFP BB News
Features of the newsservice
Worldwide news items covered by AFP, one of the world's top three news agencies, through its bureaus in 165countries are distributed along with accompanying photographs. Readers can learnabout news events around the globe from various angles with the approximate2,000 photos, the largest volume in Japan, that are provided each day covering hard-news,sports, and entertainment events. AFP distributes various news items, such as domesticnews provided by Japanese news agency Jiji Press; sports and entertainment newsfrom North America covered by Getty Images;and motion picture fashion news supplied by parismodes.tv.
Actiblog,launched simultaneously, allows readers to officially quote news articles from AFP BB News. The blog will continuously enhanceits function as a community site by providing readers with places to expresstheir opinions and knowledge mainly with the latest AFP news.
Functions
One-click blogs

News items distributed through AFP BB News can be instantly quoted onthe Actiblog site with a single operation.

Message boards

Readers can comment frankly on distributednews.

Clipping

Readers can clip their favorite photos usinga simple operation and retrieve them at a later time.

Personalization

Readers can receive the kind of newsthey are most interested in. Major news items in the reader's area(s) ofinterest are automatically edited, and pages of these personalized news items areshown to the respective reader.
AFP BBNews and Actiblog Websites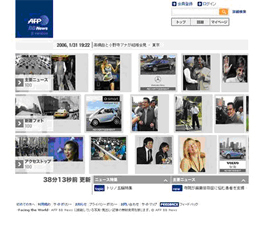 AFP BB News is designed to contribute to society byproviding people with a variety of news on a worldwide basis. Because the newssite helps create a place where people can accumulate and deepen theirknowledge as well as gain wisdom, they will be encouraged to work toward abetter society.
Producer and ChiefEditor of AFP BB News
ExecutiveProducer

TaizoSon (Director of MOVIDA HOLDINGS Inc.)

ChiefEditor

Yasumasa Matsuoka (MOVIDA ENTERTAINMENT Inc.)
Location of Head Office
France
CEO
Pierre Louette
Date of Establishment
1835
Business Operations
With overseas bureaus in 165 countries, AFP distributes news to clients worldwide. AFP has 110 representative offices around the world and tie-ups with 50 companies to cover news events in the 165 countries.
The agency's regional headquarters for news coverage in the Asia-Pacific region is located in Hong Kong.
Every day, AFP sends more than 700,000 words' worth of domestic and overseas news to 13,000 newspapers and nearly 300 radio and television stations around the world through communications satellite, wireless communications, and leased-line communications. AFP distributes news in seven languages: English, French, German, Spanish, Portuguese, Russian, and Arabic. Among the world's three largest news agencies, only AFP provides a news service in seven languages.
| | |
| --- | --- |
| Location of Head Office | 1-9-1 Higashi Shimbashi, Minato-ku, Tokyo |
| Representative | Representative Director and President Shingo Kunieda |
| Date of Establishment | November 1, 2005 |
| Business Operations | Business Operations: Production of content, operations to assist business promotion, building of billing platforms, domestic and overseas agents for the downloading of content, distribution of videos to mobile phone users, and production of comics |
| | |
| --- | --- |
| Location of Head Office | Holland Hills Mori Tower, 5-11-2 Toranomon, Minato-ku, Tokyo |
| Representative | Masao Kokado |
| Date of Establishment | August 8, 1985 |
| Business Operations | Production of content, operations to assist business promotion, building of billing platforms, domestic and overseas agents for the downloading of content, distribution of videos to mobile phone users, and production of comics |