Get the shot
without the flash.
Night Sight is now faster and
easier to use. It can even take
photos of the Milky Way.1
1 See g.co/pixel/astrophotography to learn more about Astrophotography on Pixel 4.
Beautiful photos,
no matter where
you take them.
Capture brilliant colour, even with
photos that you take in your favourite
apps. Pixel 4 also lets you adjust the
exposure balance of different parts
of the photos separately.
The fast way to get
stuff done.
The new Google Assistant1 is the easy way
to control your phone and get stuff done,
such as searching YouTube, sharing
photos and finding the best pizzeria that
delivers. It's your own personal Google –
always ready to help. (Coming spring 2020)
1 Coming spring 2020. Requires an Internet connection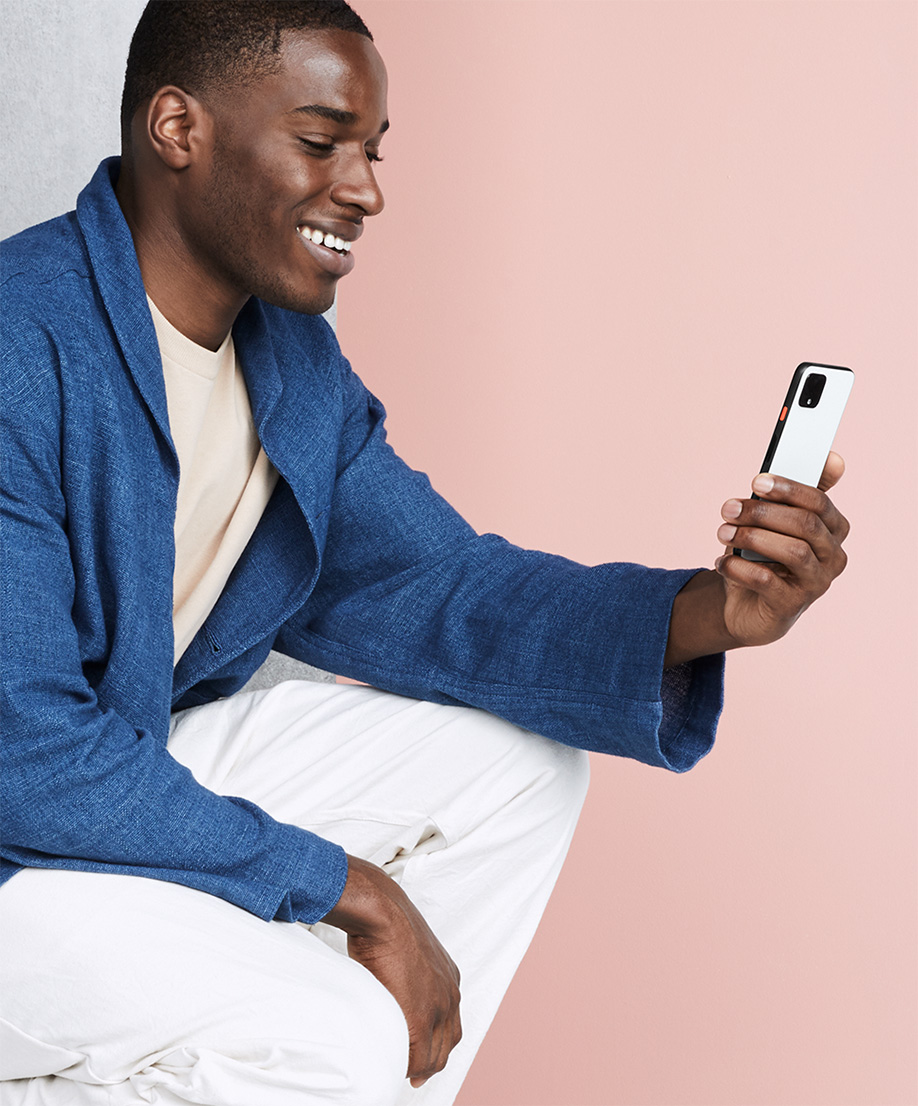 Wireless power.
Quickly charge your phone with Pixel Stand.1
You can also charge your Google Pixel 4 with
any Qi-certified wireless charger.
1 Up to 10W with Pixel 4 and Pixel 4 XL charging with Pixel Stand (sold separately).
Actual results may vary.
Power for the apps
that you use most.
Do more of what you love without having to
look for a power socket. The Adaptive Battery
learns your favourite apps and reduces power
to those that you rarely use.1
1 Approximate battery life based on a mix of talk, data, standby, mobile hot spot and use of other features, with Motion Sense off and always on display off. Use of Motion Sense, an active display or data usage will decrease battery life. Pixel 4 and 4 XL testing conducted in Mountain View, California in August 2019 on pre-production hardware and software. Actual results may vary.
Specification
Google Pixel 4
Google Pixel 4 XL

Size and Weight
Height: 147.1mm
Width: 68.8mm
Depth: 8.2mm
Weight: 162grams
Size and Weight
Height: 160.4mm
Width: 75.1mm
Depth: 8.2mm
Weight: 193grams
Rear camera
12MP(Dual Pixel)
16MP(telephoto lens)
Auto Focus
Rear camera
12MP(Dual Pixel)
16MP(telephoto lens)
Auto Focus
Front camera
8MP Wide-angle telephoto camera
Front camera
8MP Wide-angle telephoto camera