SoftBank Academia was founded on July 28, 2010 to identify and foster potential successors of the SoftBank Group. At SoftBank Academia, we look for applicants both inside and outside the SoftBank Group who have the aspiration and qualities to be a future successor.

Objective
Identify and foster a successor to SoftBank Group Representative Masayoshi Son
Venue
SoftBank Group Corp.
(Tokyo Shiodome Bldg. 1-9-1 Higashi-shimbashi, Minato-ku, Tokyo)
Class day
Wednesday (starting at 6:00pm), Number of classes:once or twice two monthes
Curriculum (as of 2016)
Presentation program with subjects based on business challenge of SoftBank Group, management simulation games, self-motivating study sessions conducted by Addademia students.
Tuition
free (students pay their own travel expenses)
FAQ
We are seeking highly motivated and qualified leaders who take on new challenges and identify with our vision to make people happy through the Information Revolution.
With the coming paradigm shift to AI, Smart Robotics and IoT, the era of Singularity—in which super intelligence will surpass the human brain—is inevitable.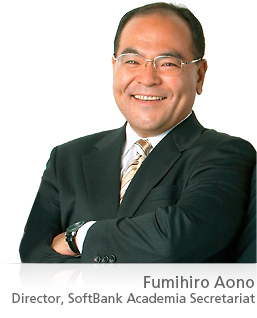 The SoftBank Group, under the leadership of Masayoshi Son, has continued to evolve by seizing all available opportunities. At some point in the future, Masayoshi Son will pass on the torch. So SoftBank Academia will continue to look for potential successors and nurture them.
As demonstrated by the acquisition of ARM and the announcement of the SoftBank Vision Fund (tentative name), the SoftBank Group never ceases to challenge itself. To become a company that will keep growing for 300 years, we are seeking SoftBank Academia applicants from both inside and outside the Group. Those who have high aspirations and identify with our vision, "Information Revolution — Happiness for everyone", are welcome to apply.
SoftBank, the SoftBank name and logo are registered trademarks or trademarks of SoftBank Group Corp. in Japan and other countries.