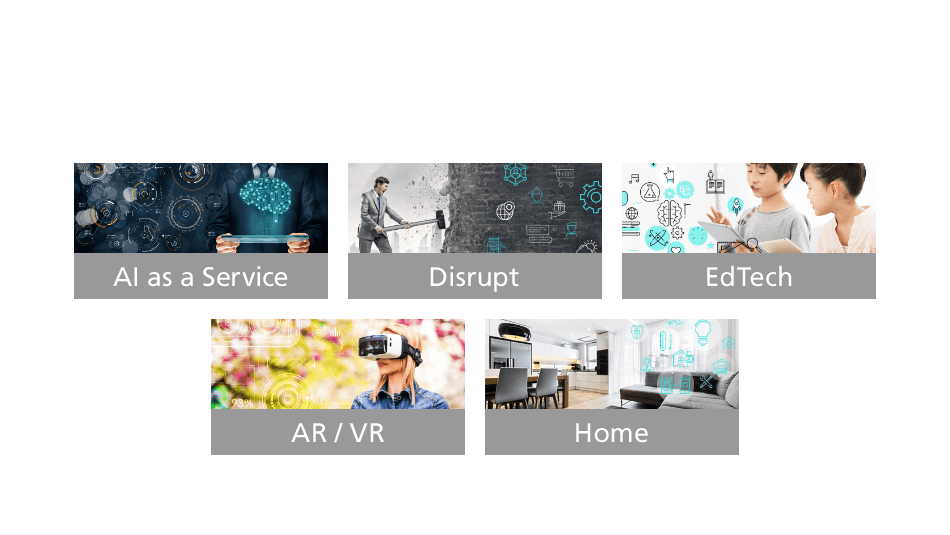 News
May. 31, 2018

Announces 3rd Round 'SoftBank Innovation Program' Winners - SoftBank press release

Nov. 14, 2017

Launches 3rd SoftBank Innovation Program - SoftBank press release

Oct. 6, 2016

SoftBank press release - Press Release (Japanese)

Sep. 16, 2016

The entry period was extended from September 30th to October 14th.

Aug. 26, 2016

Published news - Robot Start Part3 (Japanese)

Aug. 24, 2016

Published news - Robot Start Part2 (Japanese)

Aug. 23 2016

Published news - Robot Start Part1 (Japanese)

Aug. 10, 2016

Published news - WirelessWire News (Japanese)

Aug. 8, 2016

Published news - Tech Crunch (Japanese)

Aug. 4, 2016

Published news - Social VR Info (Japanese)

Aug. 4, 2016

Published news - ZDNet Japan (Japanese)

Aug. 4, 2016

Published news - CNET Japan (Japanese)

Aug. 3, 2016

Published news - finews.asia

Aug. 3, 2016

Published news - Telecompaper

Aug. 3, 2016

Published news - FinSMEs

Aug. 3, 2016

Launches 2nd SoftBank Innovation Program - SoftBank press release

Mar. 18, 2016

Published news - Tech Crunch (Japanese)

Mar. 18, 2016

Published news - Mynavi news (Japanese)

Mar. 18, 2016

Announces SoftBank Innovation Program 1st Round Winners -SoftBank press release

Feb. 12, 2016

Published news - WISDOM (Japanese)

Sep. 25, 2015

Published news - Mynavi news (Japanese)

Aug. 19, 2015

Holding of a Guidance session - WirelessWire (Japanese)

Aug. 18, 2015

Holding of a Guidance session at Israel - RRTIMES (Japanese)

Jul. 31, 2015

Launches SoftBank Innovation Program - SoftBank press release
Program
What SoftBank Innovation Program is trying to do
SoftBank Innovation Program can help create a great fusion of your company's innovative and creative solutions and SoftBank's technology and resources. The result could be a whole new value proposition.
To make people happier through an information revolution driven by innovation, SoftBank welcomes partners from all corners of the world.
The program entry was closed.
Thank you for your application.
Categories

AI as a Service
Innovative services that use artificial intelligence.
keyword
Image recognition / Data analytics / Knowledge discovery / Voice recognition / Data classification / Content generation / Sentence comprehension / Environment recognition / Language recognition / Movement recognition / Translation / Action plan...

Disrupt
Innovative services that use cutting edge technologies to ​change a game and challenge an incredible paradigm shift in diverse industries.
keyword
Sharing economy / CtoC / PtoP / Blockchain / Token services / Personalize / Subscription / On-demand / Utilize vending machine, ATM, etc… / Vitalizing local economy / Agriculture / Civic tech / Space tech...

EdTech
Innovative services that provide wonderful opportunities to learn new things for wide generations from kids to elderly.
keyword
Programming / Gamification / Educational robots / Lifelong study / Intelligent study / Individual learning / Study with smartphone...
Home
Innovative services that make indoor space such as house and office comfortable.
keyword
Personalize / Home automation / Housekeeping / Energy / Communication / Interior / Security camera / Pet / Electronic devices / Security / Room space performance / Mobility coordination...

AR / VR
Innovative services that help to spread AR/VR.
keyword
Entertainment / Real estate / For retail / Travel / Construction / Employee training / Telepresence / Education...
Overview
Eligibility
A broad range of companies from startups to big corporations are eligible.
Individuals are not eligible.
Eligible entrants must be equipped with the technology and system that can turn their innovation into actual products, services, or solutions.
Note that eligible entries must be in the form of an actual product, service, or solution, and not a concept.
To participate in the Program, entrants must agree to the Program Entry Rules.
Program Entry Rules(183KB)
Benefits
Schedule
Entries must be submitted by January 16, 2018 (JST).
FAQ
Does entrant grant rights to use ideas such as business models available free of charge to SoftBank at a point of application?

Open

Close

No. However, SoftBank may use, copy, modify, reproduce, or publicly display all or part of your entry materials in a press release, or announcements that SoftBank issues to its affiliates or partners for informational purpose, as required for SoftBank to organize the Program. See the Program Entry Rules(183KB) for details.
Does SoftBank invest to the entities entering the Program?

Open

Close

The primary objective of this program is for the business development. We may sometimes invest in promising companies in order to support commercialization in Japan.
What action is needed by an entrant after an entry?

Open

Close

Winner entries will be informed by late February, 2018 after Selection phase. Here, SoftBank may contact you for additional information about your entry during the selection.
How should a prototype be developed?

Open

Close

A prototype will be developed by using SoftBank's resources and entrant's products, services, or solutions together.
Who will be the owner of rights associated with a developed prototype?

Open

Close

The ownership of the rights is subject to mutual discussion between SoftBank and an entrant after 1st Round.
Does SoftBank cover costs of prototype development?

Open

Close

Yes. The granted cost will be determined by each case of prototype development.
How will Test Marketing be done?

Open

Close

Test Marketing will be held within SoftBank's channels and customers to get feedback for prototype.
Is it allowed to discuss the ideas or technologies contained in the program materials with any third party?

Open

Close

Yes.
However, SoftBank will deliberate about the entries separately that passed the selection.
Does SoftBank accept entry files exceeding 5 MB?

Open

Close

No. SoftBank accepts only entry files that comply with the size limitation set forth in the Program Entry Rules(183KB).
For additional submissions responding to SoftBank's requests following an entry, SoftBank will specify a file size.
Submit Entry
Submissions
File format and size (PDF or ZIP / Up to 5 MB)
Language
Japanese or English
Required fields
1
Background and the issue addressed
2
Solution, strategy, innovation, and originality
3
Target population
4
Business model (Business model or revenue structure)
5
Release date
Others
See Program Entry Rules
Contact us:SoftBank Innovation Program
Archive
1st Round Categories

Open

Close

Smart Homes

Smart houses - Innovative products, services, and solutions that bring security, joy and conveniences to our everyday life.

Connected Vehicles

Cars and transportation - Innovative products, services, and solutions that try to help drivers and improve road safety.

Digital Marketing

Web data and marketing services - Digital marketing service proposals with innovative ideas and technologies that bring together data sourced from the Internet, real time information, and offline data (deleted 'together').

Healthcare

Goods and tools part of the everyday - Innovative services and solutions that provide added value or help people for a long time.
2nd Round Categories

Open

Close

Smart Homes

Smart houses – Innovative product, services, and solutions that bring conveniences to work offices and our everyday life.

Connected Vehicle

Connected Car – Innovative product, services, and solutions that improve road safety, driving convenience, and/or load reduction of the environment.

Healthcare

Healthcare – Innovative services and solutions of precaution and health that extend health life expectancy.

FinTech

Financial Technology – Disruptive FinTech services that utilize Big Data and/or Artificial Intelligence.

VR/AR/MR

Virtual, Augmented, Mixed Reality – Innovative and required solutions, services, and devices to spread through our everyday life.

Drone

Drone – Innovative services and solution that leverage the combination of network that is advantage of SoftBank.
Contact us:SoftBank Innovation Program