What's this floating object in the sky? It's a tethered balloon equipped with a base station. To commercialize the stratospheric-based telecommunications platform called "HAPS" (High Altitude Platform Station), SoftBank Corp. (TOKYO: 9434) is developing technologies to provide stable connectivity from the sky. "Footprint fixation technology" is one such technology, and in May 2022, SoftBank used a tethered balloon to conduct a field trial to put the technology to the test. But why is footprint fixation technology necessary in the first place? SoftBank News asked two researchers involved with the field trial to learn more.
The SoftBank researchers
Kenji Hoshino
Manager, Wireless Transmission R&D Section
Wireless Technology R&D Dept., Technology Research Laboratory,
Technology Unit, SoftBank Corp.
In charge of designing antenna for footprint fixation, developing payload device and supervising payload tests
Takuya Nishimaki
Wireless Control R&D Section
Wireless Technology R&D Dept., Technology Research Laboratory,
Technology Unit, SoftBank Corp.
In charge of procuring high-altitude tethered balloon (ST-Flex), building environment for field trial and field trial project management
When a base station moves in the sky, does the communication area shift? "Footprint fixation technology"can realize stable connectivity from above
People are able to use their mobile phones when they're on the move, such as when they're riding in cars and trains, for example.
They can do this thanks to what's called the "handovers." In the handover process, when a mobile phone moves further away from a base station and the signal becomes weak, it automatically connects to another base station from which it can receive a stronger signal.
With HAPS, the airborne base station moves continuously while the receiver stays stationary, and this causes handovers. A HAPS aircraft delivers network connectivity with radio beams as it circles the sky. But this means that the communication area on the ground (i.e., the footprint) also changes in tandem with the airborne vehicle's movements and the direction of the radio beams. A mobile phone or device switches cells (i.e., handovers occur), and reception strength can greatly fluctuate. This negatively impacts telecommunications quality.
To solve this problem, "footprint fixation technology"is necessary. Footprint fixation technology secures the direction of radio waves beamed to the ground and prevents communication area switching, even as a HAPS vehicle rotates.
To achieve footprint fixation technology, SoftBank and its subsidiary HAPSMobile led the world in developing what's called a "cylindrical antenna." The antenna has a distinctive form with multiple antenna elements wrapped around it in the shape of a cylinder.
By controlling each antenna element individually, it's possible to direct the radio beam (cell) in any desired direction. By constantly transmitting the radio beam to the same specific area on the ground as a HAPS aircraft rotates, the communication area (footprint) can be secured.
In this way, footprint fixation technology makes it possible to provide from the sky the stable connectivity that is essential for telecommunication services.
In this field trial, SoftBank equipped a tethered balloon that rotates and sways with its cylindrical antenna, as would be the case with HAPS, to verify the state of connectivity.
Wide-area coverage with stable reception confirmed, footprint fixation successfully verified
The test used a communication payload that is being developed for the HAPS stratospheric-based telecommunications platform. It was attached to the "ST-Flex" high-altitude autonomous tethered aerostat of Altaeros Energies, Inc., a US-based company that lists SoftBank Group Corp. as one of its investors. The field trial, which saw the ST-Flex system tethered at an altitude of 249m, took place in May 2022 at Hokkaido Spaceport, Taiki Town in Hokkaido, the northernmost prefecture of Japan.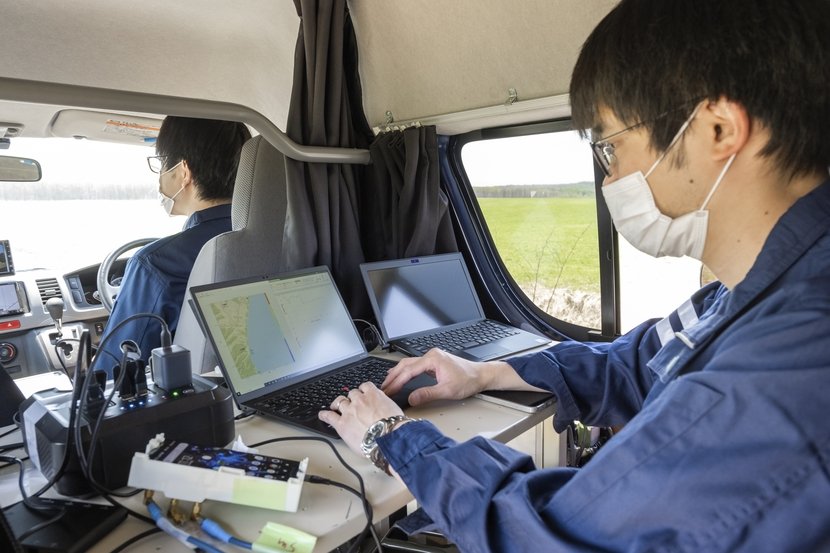 "This graph shows one example of the field test results. Compared to the left graph where footprint fixation wasn't used, the right graph, where footprint fixation was used, we can see that the balloon movements had little effect and the received signal power levels were virtually constant. Furthermore, since the communication area was fixed, we could confirm that there was no occurrence at all of handovers—a shifting of base stations that connect with the communication device—even when the balloon moved significantly."
Three important points of the field trial
During the field trial, besides footprint fixation, a variety of other tests were conducted regarding balloon control and telecommunications. We spoke to the researcher in charge to learn more.
1) AI used to realize stable control of the tethered balloon
"The three tethers that connect that tethered balloon (aerostat) to the ground are controlled by using AI. With AI control, the station is rotated autonomously in line with wind speed and direction and we were able to safely fly the aerostat without any tether entanglement. The AI also actively stabilizes the aerostat, helps maintain a consistent altitude when wind speeds change, and enables operation of the aerostat even in very high wind speeds."
2) Wide communication area achieved with SoftBank's highest base station altitude
"Previously, SoftBank developed tethered balloons with radio relay systems and implemented them to restore communications in areas affected by disasters. The balloon systems flew at an altitude of 100m. During this field trial, the balloon was tethered at an altitude of 249m to keep with aviation regulations, but it can fly at a maximum altitude of 305m. With the highest-ever tethered balloon altitude for SoftBank, we were able to construct an even wider communications area than before."
3) Balloon flown on autopilot
"The last point I'd like to explain is our use of an autopilot system, Alateros' Aerostat Autopilot™. This system enabled us to operate the flight with fewer people. During the flight, we were able to remotely monitor the balloon and base station status on a PC screen."
With this field trial, we proved that we could achieve stable communications area coverage using footprint fixation technology. At the Wireless Technology R&D Department we're also using footprint fixation technology as an application technology to research and develop what's called "area optimization technology." This technology uses our cylindrical antenna to optimize the direction and shape of radio beams in tandem with communication traffic distributions in a given area to improve communication quality. My colleague Yohei Shibata in the Wireless Control R&D Section has received the IEICE RCS Active Research Award from the IEICE Technical Committee on Radio Communication Systems (RCS) for his research in this area.
Using area optimization technology, we can concentrate radio beams toward communication areas where services are most required, and this makes it possible to respond to communication traffic needs when there are changes in user distributions, such as when a disaster occurs or a major event takes place.
To implement HAPS services and make them better, SoftBank will continue to conduct research.
For more information on the field trial and related technologies, please see this press release and notice.
SoftBank Corp. Successfully Tests High-altitude Tethered Balloon Base Station System that Utilizes Footprint Fixation Technology(June 22, 2022, SoftBank Corp. and HAPSMobile press release)
SoftBank Corp. and HAPSMobile Accelerate High Altitude Platform Station (HAPS) R&D to Provide Stable and High-quality Connectivity for Future Commercial Services(September 2, 2021, SoftBank Corp. and HAPSMobile notice)
(Posted on August 25, 2022)
by SoftBank News Editors
SoftBank's NTN Solutions
To achieve worldwide Internet connectivity, SoftBank is promoting the deployment of NTN solutions from outer space and the stratosphere in Japan, and globally. Learn more here.