On November 4, 2022, SoftBank Corp. (TOKYO: 9434) President & CEO Junichi Miyakawa presented earnings results for the six months ended September 30, 2022 (Q2) for the fiscal year ending on March 31, 2023 (FY2022). At the press conference held in Tokyo, Miyakawa reviewed financial results for the first half (H1) of FY2022, highlighting an upward revision to full-year FY2022 forecasts for operating income and net income.
Revenue increased while profit decreased in H1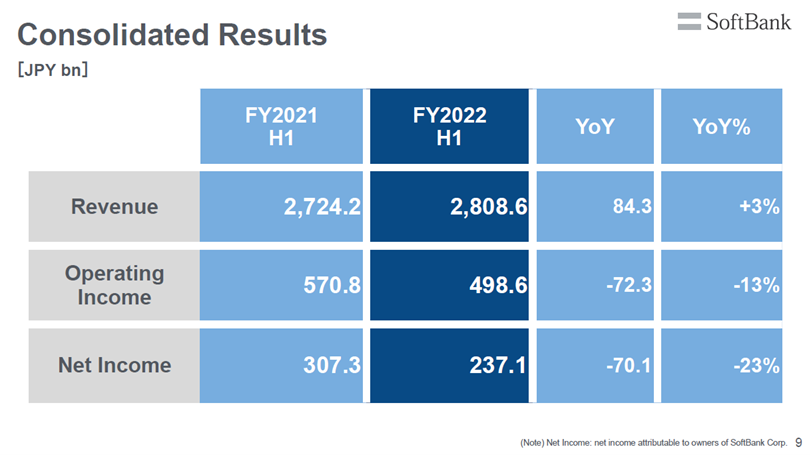 Miyakawa said revenue in H1 was up by 3% year-on-year (YoY) at 2,808.6 billion JPY as sales rose in all business segments. Operating income, on the other hand, declined by 13% YoY to 498.6 billion JPY, as operating income decreased in all segments YoY.
By segment, the Consumer segment saw a 13% decline in operating income YoY due mainly to the impact of mobile service price reductions and an increase in customer acquisition expenses. Average Revenue per User (ARPU) continued to follow a downward trend in line with mobile service price reductions, but in H1 of FY2022, the YoY decrease narrowed. Miyakawa noted he expects the impact of mobile service price reductions to further lessen in H2 of FY2022, and a bottoming out of the negative trend in FY2022.
The Enterprise segment saw a 4% decline in operating income YoY mainly due to one-time factors, including a provision for litigation. Despite these special factors, the baseline Enterprise business continued to perform well.
The Yahoo! JAPAN/LINE segment saw a 14% decline in operating income YoY due to costs related to strengthening recruitment, an increase in sales promotion expenses for future growth and one-time factors.
Net income was down 23% YoY at 237.1 billion JPY in the 1H of FY2022 due mostly to the decrease in operating income and one-time factors.
Upward revisions made to full-year forecasts for FY2022
Miyakawa provided an update on the full-year forecast for FY2022. While the full-year forecast for FY2022 revenue remained unchanged at 5,900 billion JPY, operating income was revised upwardly from 1,000 billion JPY or more to 1,050 billion JPY, and net income was also revised upward from 530 billion JPY or more to 540 billion JPY. Miyakawa explained the upward revision is due mainly to the consolidation of PayPay Corporation, which took place on October 1, 2022, which in turn triggered a re-measurement gain of 295 billion JPY related to the consolidation.
Financial Business segment to be established in Q3
PayPay will form a major part of the Financial Business segment, which will be newly formed for Q3 FY2022 onward. With 51.21 million registered users at the end of Q2 FY2022, PayPay is seeing accelerated growth in number of payments (up 43% YoY in H1 FY2022), gross merchandise value (up 43% YoY) and revenue (up 129% YoY). Miyakawa also noted that PayPay's EBITDA has steadily improved, and that he believes profitability is on the horizon.
In addition to PayPay, PayPay Card (which provides credit card services), PayPay Securities (which provides smartphone-based securities services) and SB Payment Service (which provides payment processing services) will be part of the Financial Business segment.
Miyakawa said that while an operating loss of 19.0 billion JPY is expected for the Financial Business segment in FY2022 due to the inclusion of an expected PayPay loss in H2 FY2022, he believes the segment will see revenue and profit growth by leveraging group synergies, especially with businesses that have mobile, enterprise and e-commerce customer bases.
(Updated on November 7, 2022)
by SoftBank News Editors