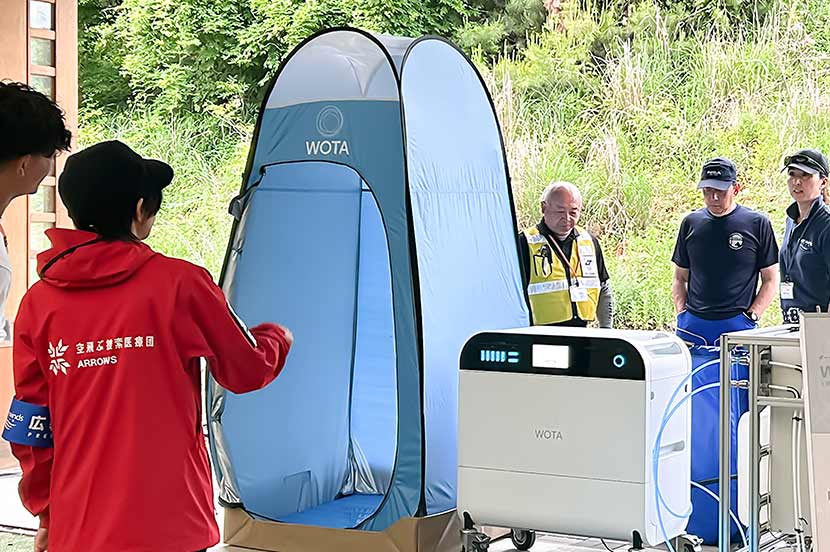 After a natural disaster occurs, ensuring the availability of lifelines like water, electricity, gas and communications is of critical importance.
In the Turkey-Syria Earthquake of February 2023, the Japan International Cooperation Agency (JICA)'s emergency assistance team utilized a technology called "WOTA BOX" to alleviate water supply issues in the aftermath. The portable water reuse system makes it possible to provide approximately 100 showers with only 100 liters of water.
Below is a closer look at how WOTA BOX was used in a relief operations drill.
WOTA BOX: Designed to address water-related issues after a disaster
Water is an essential element in our lives. When a large-scale disaster disrupts the water supply and sewage systems, restoring services is a major area of concern. Following the 2011 Great East Japan Earthquake, it took approximately a month to bring water supply levels to 90-95% of pre-disaster levels. An environment without water access is hard on people affected by a disaster, both mentally and physically.
WOTA CORP., a Japan-based startup in which SoftBank Corp. (TOKYO: 9434) has a capital and business relationship with, develops portable water reuse systems with the aim of alleviating water shortages caused by natural disasters. Its "WOTA BOX" solution improves sanitation conditions at evacuation centers by providing showers and hand washing facilities.
WOTA's AI and IoT technology for autonomous water treatment control can recycle approximately 98% of wastewater to meet Japan's public bath sanitary standards. WOTA BOX's high efficiency means it's possible to provide about 100 showers with just 100 liters of water. Installation is possible in a short time if a power source can be secured, and no plumbing work is needed. Furthermore, through water quality monitoring and sensor-based management and algorithms, even water used with soap and shampoo can be recycled.
Experiencing WOTA BOX during a relief operations drill
WOTA BOX was used in a drill conducted by the disaster emergency support project ARROWS (which stands for "Airborne Rescue & Relief Operations With Search") operated by the non-profit organization Peace Winds Japan. ARROWS conducts search and rescue activities in disaster-stricken areas both in Japan and abroad.
The WOTA BOX setup at the training site was relatively simple, without a lot of parts and machinery.
How does it work? First, the necessary seed water volume of 100 liters for showering is added.
Next, tents for undressing and bathing, as well as a tent for showering, are set up.
There's no complex piping – just insert the tubes and turn on the power switch.
And, voila! In just 20 minutes, the WOTA BOX setup is complete. Water steadily flows from the shower head.
WOTA BOX comes equipped with a kerosene tank to warm up water. Participants commented that being able to shower with hot water in the aftermath of a disaster is especially welcome.
Participants in the drill also noted that since rescue dogs get dirty, being able to wash them is handy. "The inside of the tent is warm and spacious, and you can hear outside noises, but your privacy is protected," said another participant.
Related news
(Posted on June 21, 2023)
by SoftBank News Editors