Not far from the hustle and bustle of Shibuya's "Scramble Square," one of the busiest pedestrian crossings in the world, lies "Pepper PARLOR," a café that offers a completely new dining experience. Pepper PARLOR is nestled among the array of stylish shops, cafés and restaurants in Tokyu Plaza Shibuya, a new commercial facility that opened in December 2019.
Operated by SoftBank Robotics Corp., at Pepper PARLOR people can enjoy premium drinks and foods while interacting with robots that work alongside humans.
Let Pepper take your order
The entrance to Pepper PARLOR is staffed by a line of Pepper robots. They can take orders in three languages: English, Japanese and Chinese. Customers can pay with credit cards on a payment terminal when they're ready to order. After a ticket is printed out, customers take it to the adjoining bar to pick up their drinks and confirm their order.
In addition to a wide range of hot and cold drinks--including coffee, lattes and teas---gourmet waffles are on the menu. Besides traditional dessert-style waffles, waffles with carefully selected ingredients like the "Wagyu roast beef, crispy onion waffle" are on offer.
At Pepper PARLOR, not only do robots take orders, they also entertain patrons. A number of Pepper robots are on hand to interact with customers at their tables with a wide variety of games and activities. Fortune telling is one of the seven games Pepper can play to entertain guests. The games are currently only available in Japanese, but English games are planned for the near future.
More robots on stage and behind the scenes
Not to be outdone by Pepper, another humanoid robot in the SoftBank Robotics family, NAO, is in the café to amuse patrons. Except for the opening and closing times, every hour NAO robots perform precisely choreographed dances. Jazz, tai-chi, disco and the polka are among NAO's repertoire.
One robot you won't see at Pepper PARLOR is Whiz, an AI-powered vacuum cleaning robot that keeps the place tidy when the lights go down. While other cleaning robots require a degree of technical skill to set up cleaning routes and then require additional adjustments for changed layouts, setting up routes for Whiz is a breeze. Among other features, the robot can automatically maneuver around obstacles.
If you find yourself in the Shibuya area and need a break, come visit Pepper and friends at Pepper PARLOR!
Pepper PARLOR Info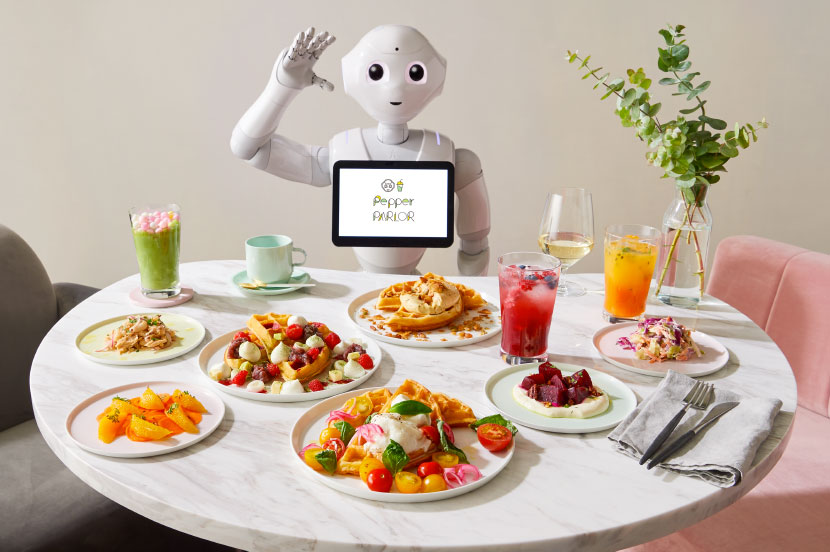 Number of seats: 162
Opening hours: 10am-9pm (last order at 8:30pm)
Address: Tokyu Plaza Shibuya 5F 1-2-3 Dogenzaka Shibuya, Tokyo
Website: https://www.pepperparlor.com/en/
(Posted on February 13, 2020)
By SoftBank News Editors