As the world becomes increasingly digitalized, advancements in IoT devices and sensors have helped convert virtually everything around us into data. And as public institutions and businesses continue to provide more data openly, expectations are high for utilizing data to solve social issues.
In these circumstances, the need for people who can effectively analyze vast amounts of data, identify issues, and find the means to solve them is greater than ever.
With the aim of fostering AI human resources for the future, in February and March 2023 a data hackathon program that used real-world data was held at SoftBank Corp.'s (TOKYO: 9434) Takeshiba headquarters for students of The University of Tokyo, a research hub of international excellence.
Business plans use real-world data
The data hackathon themed on utilizing AI with real-world data was organized and conducted by SoftBank Corp. in collaboration with The University of Tokyo. The event was also held as an activity of the Institute for AI and Beyond, a research initiative launched jointly by The University of Tokyo and SoftBank.
From February to March 2023, participants developed and presented business plans and mock-ups of services and apps to solve social issues by utilizing publicly available data and AI tools.
The event also served as an opportunity for hackathon winners to experience the real world of business on the front lines, as the top qualifiers were offered a seven day internship at the Indian location of Findability Sciences Inc., an enterprise AI company that SoftBank Corp. is an investor in.
21 teams present solutions to solve social issues
About one month after the opening ceremony was held on February 1, on March 8 students presented ideas they worked hard on over a short period.
A total of 21 teams participated in the online presentation competition, where each team gave a 5-minute presentation in English. A University of Tokyo Professor from the Department of Systems Innovation and members of SoftBank Corp. group companies involved in data science, AI development, and startup support evaluated the social needs, feasibility, AI applications and mockups. The judges evaluated the presentations both from business and technology perspectives.
The presentations were so well executed that some of the judges, who are active on the front lines of business, commented that they were surprised at the caliber of the projects, which was much higher than they had imagined.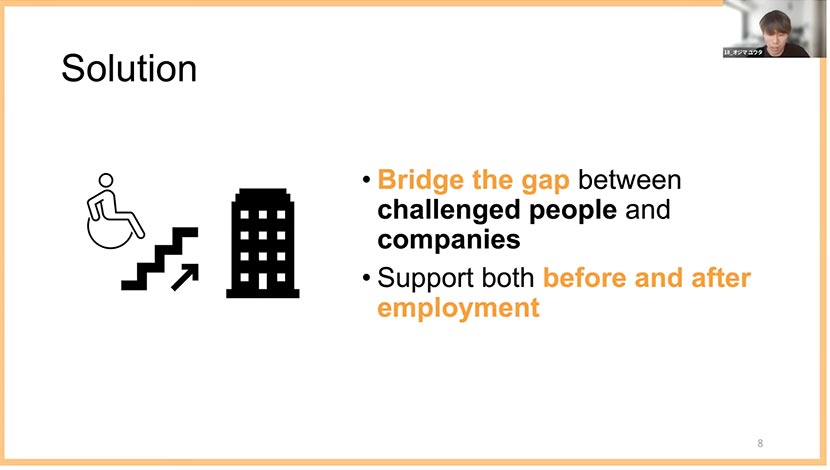 After a qualifying round, the competition was narrowed down to 10 teams, and a main competition was held to conclude the event. The results of the judging were announced at a closing ceremony held on March 15.
Unique business ideas impress judges
30 students gathered at an office lounge inside SoftBank's Takeshiba headquarters for the closing ceremony held on March 15, and the event was also streamed online for students who could not attend in person.
In addition to the top three teams that were offered internships in India, three special awards were presented to the winning teams: the Data Award, Technology Award and Business Award.
Prize Winning Teams
No. 1: Predict jellyfish outbreaks!
Business Idea
AI analyzes the effects on fisheries caused by the recent large outbreaks of jellyfish, using climate data from Japan's Ministry of the Environment and observation data on jellyfish outbreaks. This platform supports more effective fishing by predicting jellyfish outbreak numbers.
No. 2: RailSentry: a Legacy-enabled AI for detecting rail track intrusion
Business Idea
The system monitors railway platforms using AI to detect objects from video images, and issues alerts when a person enters a certain area.
Second place: Green.ai
Business Idea
A business-to-business (B2B) software-as-a-service (SaaS) where AI is utilized to propose strategies to optimize the management of greenhouse gas reductions and carbon credits to support companies' efforts to achieve carbon neutrality.
Special Awards
Data Award
Data Award
Menu translation app for visitors to Japan
Menu translation app enables visitors to Japan with diverse dietary needs to dine with peace of mind.
Business Award
Business Award
Garbage log
Service to conduct statistical surveys of urban environments for municipalities and companies providing smart city-related services.
Technology Award
Technology Award
Optimized website design generation for multinational websites
A system for the multilingualization of websites, in which AI not only translates but also proposes designs that match the business culture and consumer behavior of each country.
At the closing ceremony, Isao Matsugaya of Findability Sciences Inc., who also served as a judge, and Atsushi Tsuda, an Executive Vice President of The University of Tokyo took to the stage to give closing remarks.
Isao Matsugaya, Board Member & Strategy Head, Findability Sciences Inc.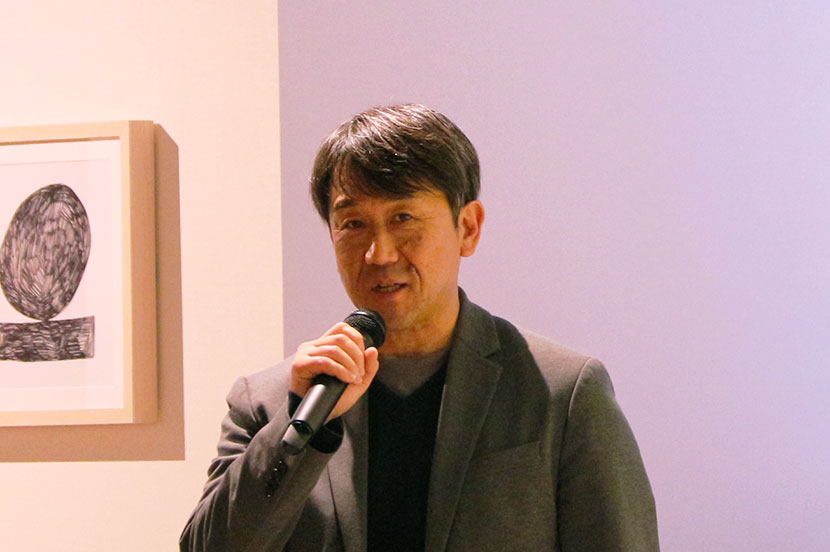 "It's been an exciting month and a half watching all of you work on your projects. I was thinking about what kind of assignment I'd give to the winners for their internship at Findability Sciences Inc., but after seeing their presentations, I thought it'd be good to give them an assignment to further explore their ideas. I'm sure those who didn't make the cut this time also want to pursue their ideas further. This is something we can all discuss, so please keep up the good work."
Atsushi Tsuda, Executive Vice President, The University of Tokyo
"This initiative is part of the experiential education program offered by our university, which aims to further increase students' motivation to learn by providing them with experiences that cannot be obtained from on-campus classes.
"In the data analysis competition conducted with SoftBank last year, we were given a common theme to work on, but this year we identified our own issues and created business models to solve them to the point of near implementation. The process of finding issues on one's own is very important, and I would like to see this initiative continue so that we can learn from it.
"I spoke with the people at Findability Sciences Inc., where the winners will visit for their internships, and their enthusiasm is off the charts. I hope you'll be amazed by their passion, technical knowledge, and bird's-eye view of things. For those of you who were not selected, I hope you'll come back with even more experience."
(Posted on June 15, 2023)
by SoftBank News Editors