Whether relaxing at home or entertaining important guests, nothing is more refreshing than green tea in Japan. Although popular since ancient times, in recent years green tea plantations have come up against a major issue: a lack of successors to take over production. An ally, however, has recently appeared on the scene: "e-kakashi," an agricultural "AI brain" provided by SoftBank Corp. (TOKYO: 9434).
So, how exactly is e-kakashi being used in tea fields? To find out more, tea master Keiichi Kubota went to Kawanehon town in Shizuoka Prefecture to visit Tsuchiya Farm, a tea plantation that produces green tea under the Kawane brand.
Profile of Tea Master Keiichi Kubota (Sōsen*)
Born in 1984 in Shizuoka Prefecture, at the age of twenty Kubota began studying in the Enshū-ryū school of Japanese tea ceremony. In 2019 he acquired the title of traditional tea ceremony instructor. He also serves as a managing director of Shizuoka Hotoku, Co., Ltd., a long-established company that manages hotels locally.
*

In the world of Japanese tea ceremony, masters receive a "tea name" after attaining a certain level of mastery. These names all begin with "Sō" and serve to show equality amongst all masters regardless of their backgrounds. Kubota's tea name is Sōsen.
Kubota learns the charms of Kawane Tea and the challenges facing the "Tea Field in the Sky"
Following the railway running along the winding Oi River, the train gently rocked as it arrived at Tanokuchi Station, an old-fashioned wooden structure. A 15-minute car ride from the station brought Kubota to the highlands, where Tsuchiya Farm is situated 600 meters above sea level. There Kubota met the plantation owner, Tetsuro Tsuchiya.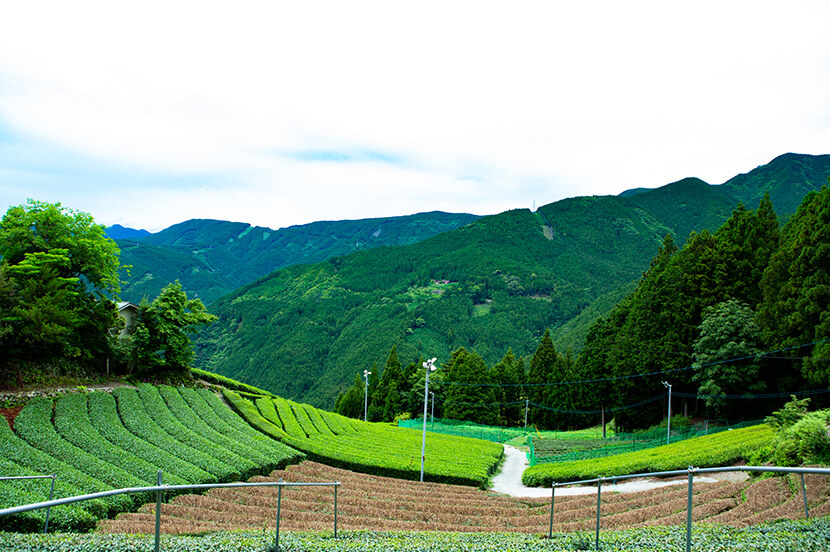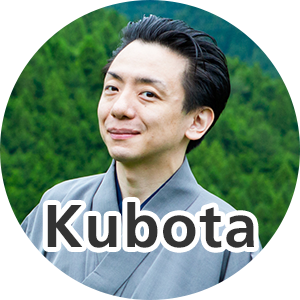 Please describe the "Kawane Tea" you grow here at Tsuchiya Farm.
Kawane Tea is a trademarked brand that uses tea leaves exclusively from the Kawane and Kawanehon towns in Shizuoka Prefecture. Only green tea made here is permitted to bear the Kawane name. It's said that tea cultivation in Shizuoka Prefecture started around the time of the Kamakura period (1185-1333), and there are even records of tea being paid as a tax in the region during the Edo period (1603-1868). Research on processing methods progressed throughout the Meiji period (1868-1912) and now Kawane Tea is treated as one of Japan's three major teas, along with Uji Tea and Sayama Tea. Many people in Japan give Kawane Tea to others as a gift.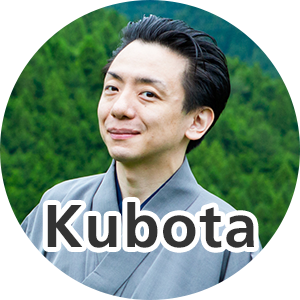 It's really high-grade tea, isn't it? When did you start growing tea?
My grandfather started around 1955, and I took over in 2018, making me the third generation in the family to inherit the plantation. Tsuchiya Farm is known as the "Tea Field in the Sky." This area is very suitable for tea cultivation because there's fog, a clear temperature difference between night and day, and good drainage for soil. Sweet teas like the shaded green tea variety gyokuro can also be grown in this area.
Time for tea! The tea master gives his expert opinion on high-quality green tea
There is an interesting difference between the first and second pours of Tsuchiya Farm teas. Kubota started with premium "Sky Wind" tea made with yabukita leaves.
First variety: Sky Wind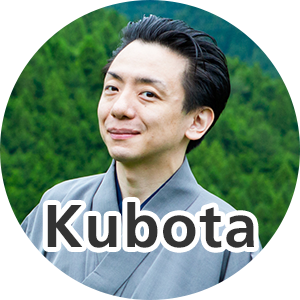 All right, so we'll start with the first pour… Very surprising—I wouldn't have imagined that such a lightly colored tea could have such a robust flavor. Rather than having a sugary sweetness, I taste a kind of natural sweetness that emanates from the tea itself.
Among tea growers, it's said that good tea has a light color and a strong taste. When first-time Kawane Tea drinkers try the first pour, I like to see their reactions. Their faces seem to say, "I can't believe it's this strong!" For the second pour, we're going to try the tea at a slightly warmer temperature than before.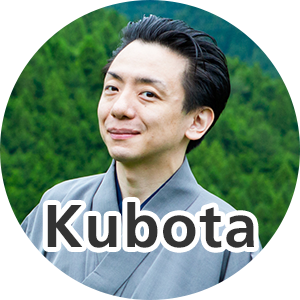 You can immediately tell when you drink it that the taste is different! The second pour is even more astringent and aromatic than before. If these two pours of tea were people, I'd say the first one is like an elegant, handsome, middle-aged man who conceals his passionate heart, and the second is like a rugby player who's dependable through-and-through (laughs).
Second variety: Spring Green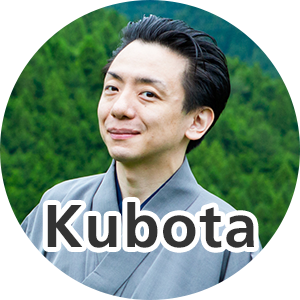 This Spring Green tea is dramatically different from the Sky Wind tea I tried before. The first pour has a strong and full-bodied flavor while the second pour has a refreshing tartness and a stronger, tea-like aroma.
Tsuchiya Farm offers these drink comparison sets from time to time. They're very popular—even people unfamiliar with green tea have said they've become hooked after trying them. Unfortunately, tea plantations all over Japan are suffering from a lack of successors. This is because tea cultivation relies heavily on instincts developed over many years. It's hard to transfer techniques for things like the best timing for watering and fertilizing, and how to keep insects at bay. These are very high hurdles for beginners.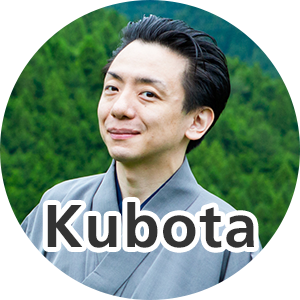 Right. Tea can only be harvested once a year, so these are not things you can learn overnight.
Exactly. Rather than relying on intuition alone, starting this year we've introduced technology that helps us cultivate tea by using data.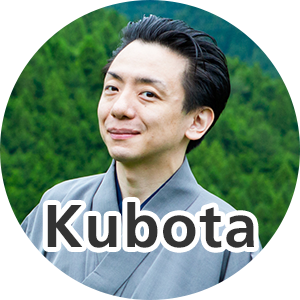 Kubota: Using technology out here on a quiet tea plantation? You've got to tell us more about that!
Using the agricultural "AI brain" e-kakashi to understand and manage soil conditions
We actually started using e-kakashi at the suggestion of the town of Kawanehon, which has been implementing measures to safeguard Kawane Tea for future generations. e-kakashi enables you to manage the typically back-breaking work of controlling soil temperature and moisture by using a smartphone or computer. I immediately understood e-kakashi to be a tool that even beginners could use.
What is e-kakashi?
e-kakashi is a service provided by SoftBank Corp. that applies science to agriculture. It is an agricultural "AI brain" that implements cultivation processes from the plant's "perspective"*1, visualizing environmental data*2 gathered in the field and determining the work that needs to be completed.
It is an IoT solution that offers peace of mind by providing an optimal growing environment around the clock. For more information, visit the e-kakashi website.
*1

Refers to a scientific approach based on agricultural science

*2

Air temperature, relative humidity, soil temperature, water temperature, soil volume moisture content, EC, solar radiation, CO2 concentration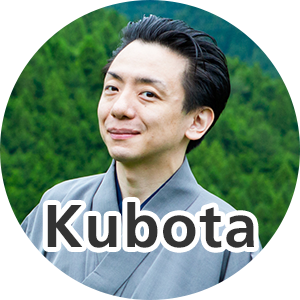 That's reassuring to hear, isn't it? How do you feel now that you've actually started using it?
We just started using it about half a year ago, so we're still in the process of collecting data. We want to compile data for at least three years. In the future, we aim to use this data to improve efficiency and quality, and to stabilize harvests. We also hope to use it to develop new tea products.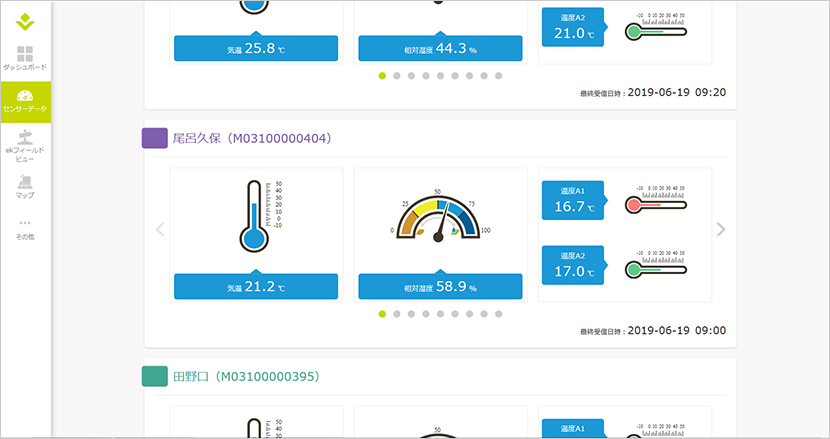 Recently, I've found e-kakashi functions that enable you to see soil information such as temperature and moisture in close to real time, which is really useful. Being able to compare information from multiple locations at once saves us a lot of time as we no longer need to physically go to the actual sites and check and measure for it. Plus, these sort of details about the soil are difficult to determine, even for pros.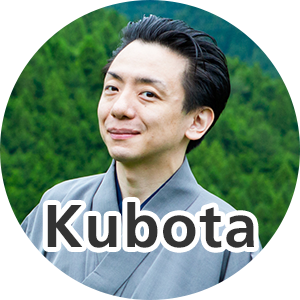 Even so, introducing technology into agriculture is a kind of innovation in and of itself, isn't it? As a tea master I teach people about Japanese traditions in a modern-day context, but at the same time, this is also a business that my family has been managing since the late 1800s. My father always said, "Tradition is the continuation of innovation." I find his words ring true.
There's a connection there, isn't there? What kind of innovations have you incorporated into tea ceremony and your company?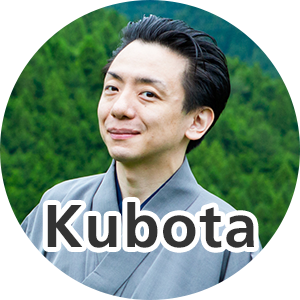 I come from the Enshū-ryū school of tea ceremony and one of our key concepts is kirei-sabi. This takes the spirit of wabi-sabi—the Japanese aesthetic of transience and imperfection pursued by Sen no Rikyu, one of the most important historical figures in the world of tea ceremony—and adds elements of beauty and light to it. Because of this, in the Enshū-ryū school of tea, there is an elegance extended to even the tea utensils themselves. To give another example, we can look at the design of Japanese castles. Castles created during times of war are often bulky and black like Kumamoto Castle, whereas Himeji Castle, on the other hand, built during the peaceful Edo period, is white and gives one a feeling of serenity. I think the transition from wabi-sabi to kirei-sabi is similar.
Yes, it's about adopting new elements to keep in step with the times.
Virtual tea ceremony classes? Preserving traditional culture by introducing technology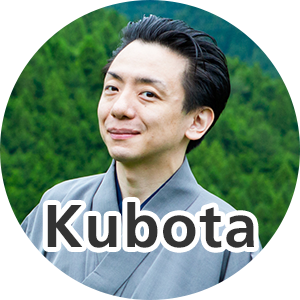 We used to share information among our employees through handwritten messages in a notebook. But not everyone read them, and the gap in time between when the message was written and when it was actually read was also problematic. So recently we started providing all our employees with smartphones. In the unlikely event that somebody makes a mistake, we can make use of that information in the future to immediately share the cause of the problem and the solution with all our employees. We've seen our quality of work go up now that we can share information with everyone quickly.
I want to start incorporating new methods into farming, too. I hope that Kawane Tea will continue to be loved by more and more people, from each generation to the next.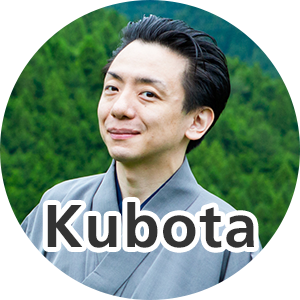 I really think it's necessary for more people to be aware of the world of traditional Japanese tea. Even for those who don't have time to study tea ceremony, I'd like to see virtual reality (VR) classrooms used to teach people about the protocols and etiquette related to tea ceremony. I've even heard there's research being done to make use of all five senses through VR. It's exciting just thinking about technology that could allow us to enjoy the taste and aroma of new teas from all over the world.
Profile of Tsuchiya Farm
A small tea farm in the Orokubo district that sits at an altitude of 600 meters above sea level. Perched atop a steep slope, earning it the nickname the "Tea Field in the Sky," Tsuchiya Farm creates award-winning teas utilizing organic fertilizers and environmentally-friendly cultivation methods.
Kawanehon Tea Tour—seeing the future of technology and agriculture
We hope you enjoyed this tour of the "Tea Field in the Sky." Just like in Kawanehon town, SoftBank Corp. is bringing technology to agriculture with its e-kakashi solution, and is contributing to other regional revitalization initiatives around Japan. Tsuchiya Farm is utilizing advanced technology so the next generation can enjoy its legacy of high-grade tea. This tour showed a how a tea plantation can use state-of-the-art agricultural technology while respecting long-held community traditions.
(Original article posted on July. 1, 2019)
Text by Naomi Akiba, Exwrite Inc.
Photos by Yuji Yamazaki