Whether in cities, the mountains, or on islands, people are used to living in a world where they are always connected to the Internet. But what about when they are at sea? Out in the oceans, network connectivity is greatly limited by comparison.
To address this, e5 Lab Inc. ("e5 Lab"), a company that develops electric vessels (EV), conducted a large-scale demonstration that showed how marine communications can be transformed. By utilizing the communication technologies of SoftBank Corp. (TOKYO: 9434) to develop an on-board network environment, and by linking it to services that use this on-board network, both companies showed new possibilities for businesses and value creation at sea.
Demonstration outline
For the demonstration, e5 installed flat antennas and a local wireless station on the vessel, and it conducted high-speed communication tests using an existing communication satellite for backhaul. The tests were conducted to validate:
the feasibility of marine communications using a communications satellite
the feasibility of satellite/cellular hybrid communications
the feasibility of installing and operating small and light-weight flat antennas
the efficiency of using satellite bandwidth
the effectiveness of digital, medical solution and IoT equipment for sea vessels
The demonstration was conducted near Tokyo Bay.
The vessel was moored by a shopping center that is a major destination for families on the weekends. At first glance, it looked like an ordinary ship, but it had an amazing array of technologies on board.
Hop aboard!
Wait, what's that on the roof?
Yoshihiro Oshida, a Director at SoftBank's Satellite Business Promotion Department, explained, "This is a flat antenna that receives both satellite and cellular communication signals to provide optimal maritime communications. Compared to a parabolic antenna, a flat antenna is smaller in size and costs less. This makes it easier to install on hulls with limited space, such as small ships."
When the vessel was located near shore, it used cellular communications from terrestrial base stations and when it moved offshore, it used satellite communications. The vessel achieved what is called "hybrid communication," which means switching between both communication methods according to signal strength.
Highly accurate positioning equipment enables remote control and prevents collisions
The objects pictured above are GNSS receivers used with "ichimill," SoftBank's highly accurate positioning service. They receive satellite signals at over 3,300 exclusive control points across Japan and enable highly accurate and stable positioning with centimeter-level accuracy.
"ichimill": a service that provides centimeter-level positioning information
The positioning service uses signals transmitted from Global Navigation Satellite Systems (GNSS*1), including the Quasi-Zenith Satellite System (QZSS) "MICHIBIKI", and the Real Time Kinematic (RTK*2) method to achieve centimeter-level positioning.
*1

 GNSS: refers to satellite positioning systems that include QZSS, GPS, GLONASS, and Galileo

*2

 RTK: a positioning method that uses fixed stations and mobile stations to receive signals. Data is exchanged between the two points to achieve highly accurate positioning.
Yuichi Funai, who works in SoftBank's 5G & IoT Solution Division, said, "By installing the GNSS receivers at the four corners of the hull, we could acquire not only the ship's position, but also the slope measurements of the hull in centimeters. Not only did the receivers help us track the ship's route, they also helped prevent collisions. We think that ichimill can be especially helpful in providing highly accurate steering assistance for the most nerve-wracking aspects of ship operations. In the future, we would like to apply ichimill to remote control and the automated operation of ships."
During the demonstration, robots were also on board to relieve feelings of isolation and loneliness for crew members on long voyages. In addition, antibacterial and antiviral filters were installed to prevent COVID-19 infections.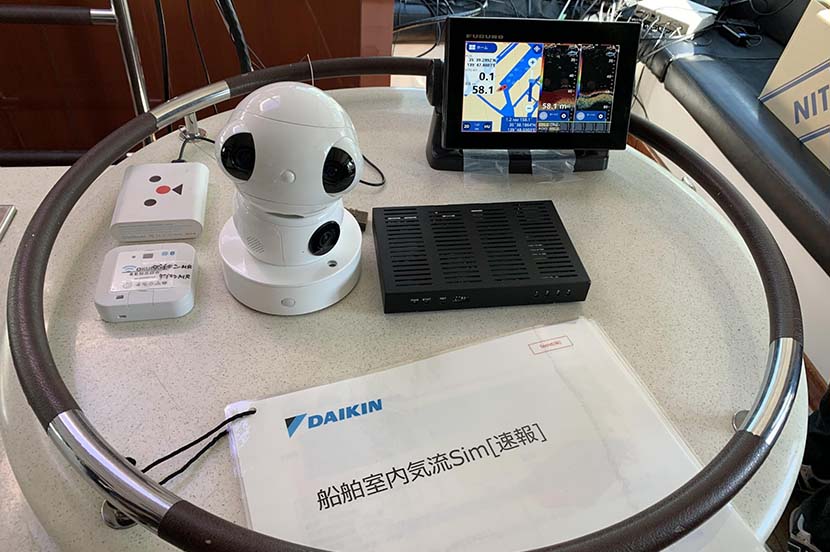 Yasumasa Suetsugu, e5 Lab CTO, said, "Building on the results of the demonstration, e5 Lab and SoftBank will work together to commercialize and spread maritime broadband services that use satellite communications and next-generation satellite communications. Our hope is that maritime broadband will enable the sustainable development of the Japanese shipping industry and help create new businesses and value. In addition to the Japan market, we would like to target the rest of the world as well."
(Original article posted on December 2, 2020)
By SoftBank News Editors