Since it launched on the airwaves in 1979, the anime series "Mobile Suit Gundam" has built a dedicated following in Japan, and across the world as well. It has long been a dream of Gundam fans to see the gigantic manned humanoid machine from the cartoon come to life.
That dream became a reality at an event to commemorate the 40th anniversary of Mobile Suit Gundam. On December 19, 2020, an 18-meter high "Moving Gundam" was revealed to the public at GUNDAM FACTORY YOKOHAMA located at Yokohama City's Yamashita Pier. Japanese toy maker Bandai Namco Holdings organized the construction of the giant moving mobile suit, and 5G partner SoftBank Corp. (TOKYO: 9434) is enhancing the experience with dedicated 5G networks and providing content that fully utilizes the ultra-high speeds and massive data volumes enabled by 5G.
GUNDAM FACTORY YOKOHAMA: Bringing dreams to life
Plans for GUNDAM FACTORY YOKOHAMA started in 2014 as part of the "Mobile Suit Gundam 40th Anniversary Project." Open from December 19, 2020 to March 31, 2022*, visitors can experience the 18-meter tall life size Moving Gundam exhibit up close, VR simulations of the cockpit and more at the facility.
*

See website for specific details, schedule and updates.
SoftBank News took the opportunity to take a tour of GUNDAM FACTORY YOKOHAMA.
Once past the entrance, visitors are treated to a display of sketches, blueprints and photos that document the planning process that began in 2014 right up until the actual construction of the Moving Gundam.
The main square, which showcases the Moving Gundam at "GUNDAM-DOCK" is truly a sight to behold.
With the model number of RX-78F00, the Moving Gundam measures 18 meters high, weighs 25 tons and has 24 points of articulation (excluding its hands). According to the background story, this is a machine reconstructed from the parts of "RX-78 type" mobile suits discovered after the One Year War.
Visitors can also climb the observation decks, "GUNDAM-DOCK TOWER," and view the Moving Gundam up close at 15 meter to 18 meter heights.
Mobile Suit Gundam moves in real life, and can be witnessed at different staging times during the day. It's simply an amazing sight to see! This video shows the huge machine in action.
SoftBank 5G enables a VR-based pilot view from the cockpit
While seeing the Moving Gundam move is impressive in its own right, some fans may wonder what it would be like to actually pilot the mobile suit. Thanks to SoftBank 5G, this dream has also become a reality, or to be more precise, a virtual reality (VR).
Within the "ACADEMY" facility, visitors can experience the "GUNDAM Pilot View of SoftBank 5G EXPERIENCE." Here visitors step into a VR dome that acts as a simulated cockpit, enabling real time viewings of Yokohama from the perspective of the Moving Gundam by activating foot sensors.
Watch the video below to get a sense of what it's like to be there.
Spoiler alert: "Z'GOK" also appear
Z'GOK is an amphibious mobile suit mass produced for the Principality of Zeon's Earthside forces that appears in "Mobile Suit Gundam."
To make the experience possible, SoftBank brought 5G network coverage to the ACADEMY and GUNDAM-DOCK facilities. Fully utilizing the ultra-high speeds and high-capacity of 5G, a 360 degree camera installed in the Moving Gundam cockpit transmits 4K VR visuals that are displayed in real time inside the separately-located VR dome.
*

4G/LTE equipment combined with hybrid-type 5G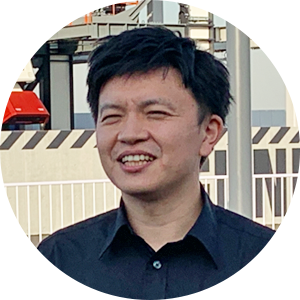 Gaku Horikawa, a manager in SoftBank's 5G & IoT Solution Division who supervised the technology, commented, "Space and heat exhaust were key considerations. When transmitting VR images in 4K, usually a large encoder is required. Since space in the cockpit is limited, we used a small encoder that can withstand high summer temperatures. We also took water resistance into consideration. Thanks to the speeds and stability afforded by 5G, we're delivering clear 5G communication that's unaffected by Minovsky particles*!"
*

Subatomic particles that jam radio waves in the Gundam universe
The facility also features a cafe serving dishes unique to Yokohama, and a store selling original "Gunpla" (Gundam plastic model kits) and special goods in collaboration with businesses in the city.
(Original article posted on December 8, 2020)
by SoftBank News Editors