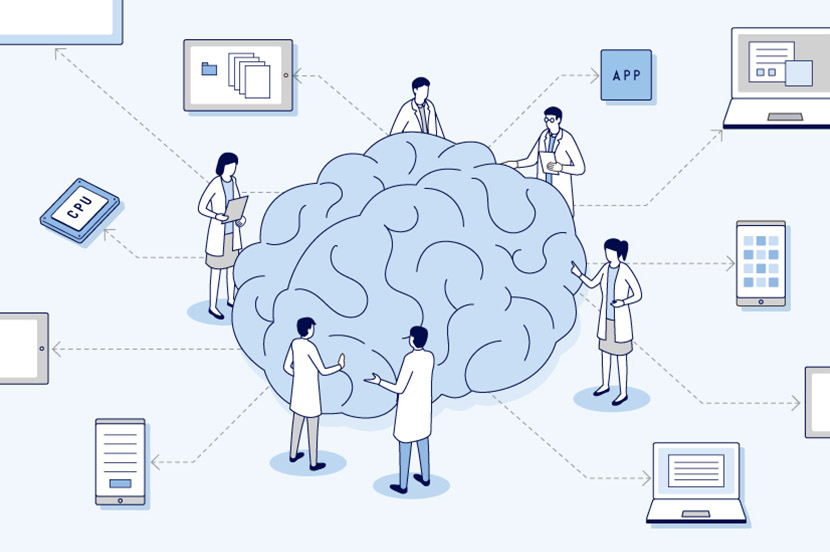 Constantly taking up new challenges and continuing to evolve are key to SoftBank's DNA. Going beyond the boundaries of a telecommunications carrier, SoftBank Corp. (TOKYO: 9434) is committed to pioneering transformative services, and research and development (R&D) plays a key role in this endeavor. SoftBank News editors spoke to Shinichi Matsuda, Senior Director of the AI Strategy Office, to learn more about AI research, a field critical to SoftBank.
Shinichi Matsuda
Senior Director, AI Strategy Office
Technology Unit, SoftBank Corp.
AI engineers improve their skills through mutual learning
What kind of research is the AI Strategy Office working on?
Simply stated, our organization is a group of AI-focused engineers who work in various research fields. The Office has approximately 40 members who evaluate and select AI technologies, as well as those who develop AI solutions required both internally and externally. Currently SoftBank is carrying out AI-related R&D in various divisions, and the Office plays a central role in those activities.
We also oversee the Institute for AI and Beyond, which was established by the University of Tokyo and SoftBank (SoftBank Corp., SoftBank Group Corp. and Yahoo Japan Corporation).
Can you explain what AI solution development is?
One example is the chatbot that automatically answers customer inquiries on the SoftBank website for subscribers in Japan. The natural language processing (NLP) technology used for this chatbot was developed inhouse with AI technologies.
Other development projects we've been involved in include optical character recognition (OCR), which automatically scans invoices, driver's licenses and other documentation. The aim is to improve the efficiency of SoftBank's internal processes. We're also developing an image recognition technology that can detect the amount of rust in a building structure using drone-captured images. We always have multiple development projects going on in parallel.
It sounds like you're working on many AI solution development projects. How do you manage all of them?
As leader of the group, I nurture our AI engineers, and I feel that we're blessed with an environment in which they can grow professionally. SoftBank has the vast data volumes needed for developing AI solutions, and a significant number of operations that AI can be applied to. Tackling practical tasks head-on is what helps AI engineers develop their skills the most.
Our members share knowledge with their fellow engineers, and when a problem arises, they collaborate to find solutions. I think we have an ideal environment for engineers with common aspirations.
Pursuing new possibilities for AI with the Institute for AI and Beyond's unique ecosystem
Please explain more about the Institute for AI and Beyond.
As represented by its name, the organization is a research institute focused on AI. AI research at the University of Tokyo is world class. At the Institute for AI and Beyond, we conduct medium- to long-term research (basic research) to produce next-generation AI. At the same time, high-cycle research (applied research) is carried out, linking research to SoftBank's businesses. Since it's also involved in the commercialization of technologies, it's not just an academic organization. I believe the close connection between research and commercialization is a major feature of the organization, and one of its main strengths as well.
What is SoftBank's role and contribution as a partner of the Institution?
There are a number of processes involved, from research to the commercialization of AI technologies. Most importantly, SoftBank, being a company with an expansive range of businesses, is expected to lead the Institute's commercialization efforts. In the process of transforming cutting-edge research conducted by the University of Tokyo into services that benefit society, SoftBank is expected to play a role as a partner. In order to practically apply research results to services, further AI development is also needed. That's where our AI engineers come in.
Furthermore, the Institute looks for the technological capabilities our AI engineers have as joint researchers. For instance, we're often asked for provide our views on studies conducted in various fields that utilize the latest AI technologies, including medical and materials engineering.
What do you think the future holds for the Institute for AI and Beyond?
The aim of the organization is to develop specific services based on AI research and set up companies two to three years from now, taking advantage of the "Collaborative Innovation Partnership" (CIP) scheme introduced by the Ministry of Economy, Trade and Industry. We hope to create a number of companies in fields that include healthcare, MaaS, and smart cities.
Among the ongoing studies at the University of Tokyo, some are well on their way to thesis presentation or patent applications. As the "seeds" of businesses are about to sprout, my feeling is the Institute's initiatives have been going very well to date.
Can we expect innovative services through the utilization of AI technologies?
We're very lucky to be working in a world-class AI research environment. We want to push forward with R&D that can be described as an "AI revolution" that changes the world. By linking R&D to commercial businesses, I hope we can contribute to SoftBank's growth as well. The Institute is committed to making this happen.
(Original article posted on January 28, 2021)
by SoftBank News Editors