Constantly taking up new challenges and continuing to evolve are key to SoftBank's DNA. Going beyond the boundaries of a telecommunications carrier, SoftBank Corp. (TOKYO: 9434) is committed to pioneering transformative services, and research and development (R&D) plays a key role in this endeavor. SoftBank News editors spoke to Ryuji Wakikawa, Vice President and Head of the Advanced Technology Division to learn more about SoftBank's R&D activities. His division is responsible for comprehensive R&D processes, from examining cutting-edge technologies to researching applications and commercializing research results.
Ryuji Wakikawa
Vice President, Head of Advanced Technology Division
Technology Unit, SoftBank Corp.
Cutting-edge technologies shifting from 5G to "Beyond 5G/6G"
What does the Advanced Technology Division do?
My division is responsible for the integrated development of new technologies and the businesses that utilize them. At SoftBank, we're keenly aware that new technologies are only relevant if they can be utilized in business applications.
In this context, our division engages in a wide range of technology development activities, from fundamental research on specialized subjects to application studies that evaluate and improve technologies. We also have people responsible for planning the commercialization of new technologies, and of course, finance and marketing. One of the division's unique features is its level of diversity, which covers all levels of R&D, both upstream and downstream.
What types of R&D initiatives are the division working on?
For the last few years, we've focused on R&D projects related to 5G. For example, we created xR* for the entertainment sector and researched the utilization of 5G in broadcasting. More specifically, we conducted a baseline assessment of 5G and operated a lab where trial environments could be used in anticipation of the rollout of 5G services.
*

xR: 'x' is a variable letter while 'R' stands for Reality. Collectively, it represents technologies that enable virtual experiences, including Virtual Reality (VR), Augmented Reality (AR), and Mixed Reality (MR).
SoftBank's commercial 5G services started in March 2020, and our full-scale rollout began in 2021 with the expectation that usage will expand into various industry sectors. This also means, however, that 5G is no longer considered to be "advanced" technology. Accordingly, the focus of our R&D has already shifted to "Beyond 5G/6G."
5G has just arrived, and yet you've already started R&D for the next generation of communications?
That's true, but we're still at the basic research stage. The first successful communication was only accomplished two years ago, in 2019. Since then, much work has been done to improve antenna performance. On January 13 of 2021 we were able to announce successful wireless communications using small antennas. Beyond 5G/6G network communications use a high-frequency range called the "terahertz spectrum," which is the 300GHz - 3THz range. While this is expected to enable ultrahigh-speed communications faster than 5G, it's a difficult frequency range to take full advantage of in terms of telecommunications. We recently started examining application possibilities.
We're involved in a joint research project with Gifu University and the National Institute of Information and Communications Technology (NICT). Academic insights accumulated at the university reflect many of the issues and requirements that SoftBank faces in its telecommunication operations. We take great pride in our cutting-edge research activities in this field.
From concept to reality: an unmanned aircraft with a 78-meter wingspan that delivers connectivity from the stratosphere
Apart from Beyond 5G/6G, what other R&D activities are you engaged in?
Another important R&D focus is High Altitude Platform Stations (HAPS), a technology for providing connectivity from the stratosphere. Our subsidiary HAPSMobile Inc. is operating this project. If Beyond 5G/6G is our R&D for improving communication quality, HAPS is a challenge we're taking on to expand network coverage.
The project entails flying an unmanned aircraft equipped with solar panels and batteries in the stratosphere, 20km above the ground. The aim is to utilize this airborne mobile base station to provide wide-area communication services. If HAPS becomes available on a commercial scale, communication could be maintained even if existing services provided through ground base stations are interrupted due to a large-scale disaster. Additionally, with HAPS technology it's possible to establish communication networks to serve remote areas, where the cost of constructing a ground base station could not be previously justified. HAPS technology will also make it possible to expand land and air network coverage to enable self-driving and drone-based services.
Flying an unmanned aircraft in the stratosphere is quite an amazing undertaking.
Yes, it's all for the cause of better communications. It's a truly massive feat to design the aircraft, construct a prototype, and then actually conduct test flights. I sometimes wonder if any other company would be willing to embark on a project with such an epic concept. In fact, I myself get goose bumps when I watch the aircraft take off with its 78-meter wingspan. The project itself is significant, but, as part of our business, I also believe it's important to show our determination to make dreams come true.
We've already succeeded in testing communications between smartphones using HAPS. So the technology has been established and proven. With battery and solar panel enhancements evolving literally day by day, it won't be long before these technologies are commercialized. An increasing number of would-be rivals have entered the market in recent years, but we hope to continue leading the race, maintaining our position and pride as pioneers in the field of stratospheric base stations.
In 5G, and Beyond 5G/6G, the evolution of communications brings revolution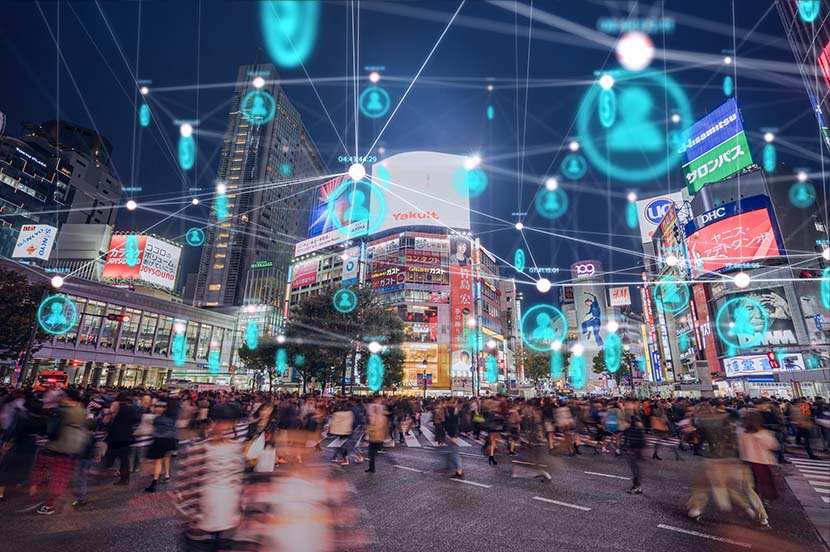 What do you think is important in R&D to realize the future you want to create?
When it comes to R&D, in principle, there's no such thing as failure. Even if you try something and it doesn't work out, the results of the effort yield discoveries. There's great value and meaning in learning from failed attempts, too. It's important to keep reminding ourselves of this fact.
I also believe that the R&D projects we're working on will help evolve mobile communications to create future "revolutions." I don't yet know what kinds of revolutions they might bring about, but I'm sure our breakthroughs will spur great transitions that drastically change people's lifestyles and impact the world we live in. 3G networks brought the introduction of smartphones, and 4G networks triggered the massive expansion and use of various Internet-based services. In a similar fashion, both 5G and Beyond 5G/6G will bring forth new revolutions.
We at SoftBank want our telecommunications infrastructure to enable revolutions. At the Advanced Technology Division, we'll continue to proactively incorporate new technologies that contribute to the further development of communications infrastructure. At the same time, we plan to successively roll out new services and businesses that help us achieve our "Beyond Carrier" growth strategy.
(Original article posted on January 27, 2021)
by SoftBank News Editors