Constantly taking up new challenges and continuing to evolve are key to SoftBank's DNA. Going beyond the boundaries of a telecommunications carrier, SoftBank Corp. (TOKYO: 9434) is committed to pioneering transformative services, and research and development (R&D) plays a key role in this endeavor. SoftBank News editors spoke to Atsushi Nagate, Senior Director of SoftBank's Technology Research Laboratory, which is engaged in developing wireless communications technologies that utilize new telecommunication platforms, including drones and High Altitude Platform Stations (HAPS) systems. The Technology Research Laboratory is also working on a radio-wave propagation model that serves as the foundation for these systems, as well as global standardization of the model.
Atsushi Nagate
Senior Director, Technology Research Laboratory
Technology Unit, SoftBank Corp.
Pioneering the R&D of drones, HAPS and other telecommunications Technologies
What does the Technology Research Laboratory do?
Our laboratory is involved in researching and developing new technologies that lay the foundation for future businesses. At SoftBank, even at the R&D stage, we always keep the possibility of future commercialization in mind. However, there are a multitude of unknown factors in new technologies that must be understood before they are applied in practice.
We have a number of doctorate degree-holders in our lab working together to ensure that technologies are steadily developed in-house from the research stage. I believe that one of our significant characteristics is that we carry out R&D activities while taking a long-term perspective.
What major R&D projects are you working on?
SoftBank is currently focusing on the R&D of wireless communications technologies that utilize new telecommunications platforms, such as drones and HAPS systems. We're also working on the development of mobile networks and new business areas.
More specifically, for drones, we're engaging in the R&D of a drone-based wireless relay system that can swiftly restore communications and aid in the search for victims in disaster-stricken areas.
As for our progress with HAPS, our airborne base station project, we successfully performed a test flight in the stratosphere last year. Preparations are underway to move into the commercialization phase, but our sights are set even further ahead. We're currently working on increasing the data capacity and improving the communications quality of our HAPS system. Unlike terrestrial base stations, HAPS systems require new approaches, including beam control technologies, to ensure stability in both service areas and communications quality.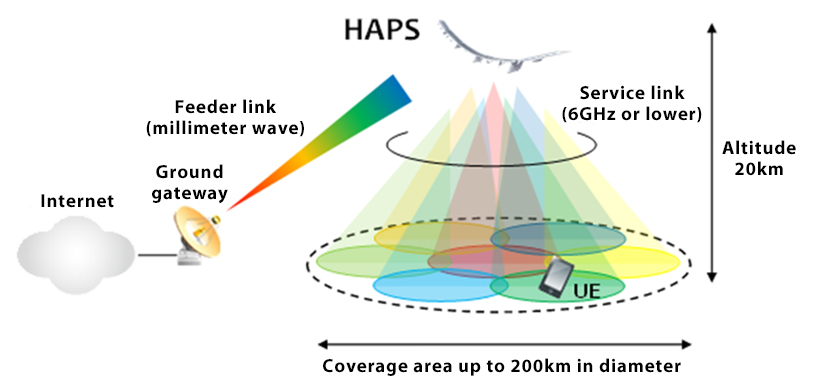 In order to examine and evaluate communications systems likes these with a high level of accuracy, understanding the characteristics of radio-wave propagation from HAPS systems is key. SoftBank's aim is to develop a radio-wave propagation model based on actually measured data and have it internationally standardized by the ITU-R; the intention being the development of effective telecommunications systems, and, eventually, the creation of a globally trusted system for designing communications areas.
ITU-R
ITU-R is the radio communication sector of the International Telecommunication Union (ITU), a specialized agency of the United Nations responsible for all matters related to information and communication technologies. ITU-R is responsible for the revision of radio regulations (RRs), which serve as international regulations related to wireless communications. The organization also studies various matters, including wireless communications technologies and operations, draws up recommendations, and allocates and registers radio frequency bands.
Source: Japan's Ministry of International Affairs and Communication (MIC) "The Radio Use Web Site"
What other R&D projects are you working on?
At SoftBank, we're progressing with various initiatives to explore new areas. One example is the realization of "all-wireless" connectivity using wireless power transmission via microwaves. When this technology becomes practical, in addition to communications, it will be possible to charge batteries and do other things without wired connections.
In addition to approaching R&D from a long-term perspective, we have the important mission of solving short-term business issues by utilizing our expertise.
Experiment conducted by the Technology Research Laboratory
We've already helped solve a number of business challenges. For example, we developed and put into practical use a broadcast satellite signal interference (BS-IF) canceller that automatically detects and cancels out radio-wave interference arising from BS digital broadcasting reception. We also developed duct interference cancelling equipment that efficiently reduces atmospheric duct interference originating from outside Japan.
Taking a proactive approach to R&D with commercialization in mind
What do you think is unique about your team?
While some members excel in academic areas and have been recognized by academic societies, many are more focused on development and conducting experiments. I believe this is another one of our unique characteristics. As an organization, we share responsibilities among ourselves. At the same time, we try to effectively apply the R&D cycle, which consists of three stages: technological surveys, prototype development, and verification experiments.
Additionally, many members of the team are studying to acquire professional qualifications or working toward a PhD while meeting their responsibilities in the lab. I'm always impressed with their ambitions to better themselves.
How do you manage your team?
I try to ensure that members are proactively involved in our R&D projects. Many of them joined SoftBank with their own aspirations to achieve things by taking advantage of their academic studies or experiences with their previous vocations. Perhaps that's why many of them have a strong attachment to their own research themes.
High aspirations and proactive approaches will eventually lead to major successes. Obviously, sometimes compromises are required to meet societal needs and corporate policies; but I always try to encourage individual-driven initiatives.
I also encourage my team to be actively involved in conversations both in and outside of the company. In addition to holding technological debates at academic societies, conferences and the like, it is also important to collaborate closely with other business departments within SoftBank as we work toward commercialization.
Commercialization is not the lab's strong point, but fortunately at SoftBank, we have many experts in that area. We're committed to working closely with them to ensure that the technologies we create are successfully applied to future businesses.
What are your thoughts on the prospects of future R&D?
Realizing a world of ubiquitous connectivity requires more than simply improving population coverage to 99.9% or higher. Given the expected rise of IoT and the widespread use of drones— and even flying cars—in the future, dramatic improvements in network area coverage will be needed to create a world where everyone and everything is connected. To this end, it is imperative that we steadily build upon our R&D efforts while utilizing new communications platforms such as HAPS systems.
Our research themes, including initiatives to achieve SoftBank's "Beyond Japan" and "Beyond Carrier" growth strategies, are limitless. We'll continue to take on new R&D projects that foster the continued creation of fundamental technologies for future businesses.
(Original article posted on May 31, 2021)
by SoftBank News Editors