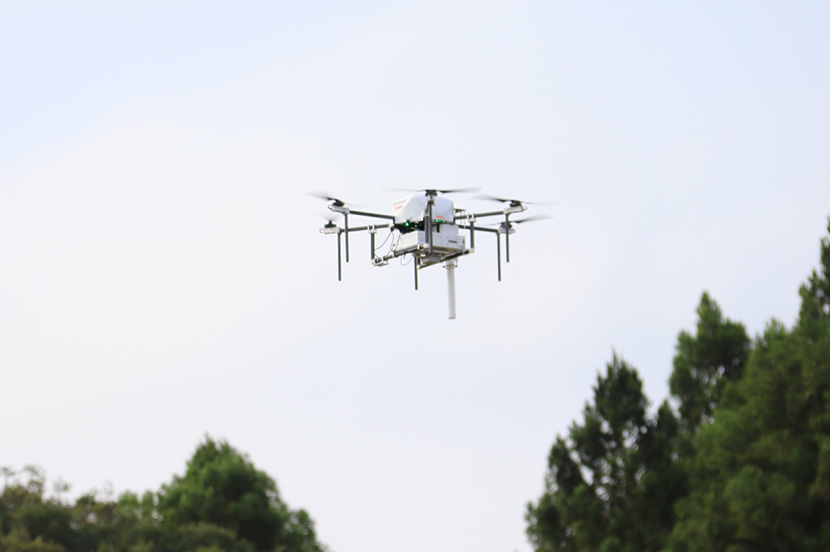 When typhoons, earthquakes, landslides and other types of natural disasters strike, mobile phones serve as an important lifeline for people to get information and to stay in touch with their family, friends and colleagues. SoftBank Corp. (TOKYO: 9434) recognizes the importance of restoring communications lifelines quickly, and is engaged in developing and building systems for disaster preparedness.
One such service restoration initiative SoftBank has been working on is the "Drone Wireless Relay System." On August 31, 2020, SoftBank demonstrated the solution for the press at Katsuma Radio Control Airstrip in Ichihara City, Chiba Prefecture, just east of Tokyo.
Drone Wireless Relay System enables rapid telecommunications recovery
Thanks to their portability and ease-of-use, drone-based wireless relay base stations are showing promise as a means of providing connectivity when outages occur in the wake of natural disasters. SoftBank has been working with theTokyo Institute of Technology (Tokyo Tech)'s Department of Electrical and Electronic Engineering since 2019 to conduct research on drone-based wireless relay systems that use a wired power feed.
SoftBank's drone-based relay base station rises to an altitude of 100 meters, covering a 10km radius. The drone can be transported in a small vehicle and is easy to set up. Compared to another SoftBank network recovery solution, the moored-balloon relay system, the time to deployment is much shorter. In addition, the wired power supply allows the drone to fly continuously for three days or longer, making it suitable for operations over the short- to medium-term.
Locating people in distress with the Drone Wireless Relay System
In the event of an earthquake or mudslide, people can get trapped under debris, and locating their whereabouts is a major challenge after a disaster. SoftBank has been collaborating with Tokyo Tech on research into drone-based wireless relay systems for avalanche rescue and locating missing persons in mountainous regions. As the Drone Wireless Relay System delivers wireless connectivity, mobile phones of the distressed can receive signals from the drone. Furthermore, the location of the distressed person's mobile phone can be determined by acquiring the GPS information received by the drone.
Building on learnings from past trials in mountainous regions, in a new twist, this demonstration assumed a disaster in an urban area. A manual control system was used to emit radio waves from the drone as close as possible to debris such as sand and concrete blocks, which are difficult to penetrate with radio waves.
At the demonstration, the drone was manually piloted by remote control about 70 kilometers away from the Katsuma Radio Control Airstrip to successfully locate mobile phones placed under dirt and concrete debris. Based on the success of the demonstration, the likelihood of using drones to assist disaster recovery and rescues is likely to accelerate in the future.
Watch the Drone Wireless Relay System in action
(Original article posted on September 14, 2020)
Text and Photos: SoftBank News Editors