SoftBank Corp. and Toyota Motor Corporation jointly held a press conference on October 14, 2018, to announce a strategic partnership and the launch of MONET Technologies Inc., a joint venture to facilitate the creation of new mobility services. Executives from both companies gave keynotes to explain MONET's vision. Two of Japan's business giants, Toyota President Akio Toyoda and SoftBank Group Representative Masayoshi Son, also sat down to discuss a wide range of topics.
Speakers
Akio Toyoda, President and Member of the Board of Directors, Toyota Motor Corporation
Shigeki Tomoyama, Executive Vice President, Toyota Motor Corporation
Masayoshi Son, SoftBank Group Representative
Junichi Miyakawa, Representative Director & CTO, SoftBank Corp.
Press releases:
Toyota and SoftBank Agreed on Strategic Partnership To Establish Joint Venture for New Mobility Services
Companies share common vision to realize safer and more comfortable mobility services
Working group comprised of young employees spearheaded partnership
Toyota Executive Vice President Tomoyama kicked off the historic press conference by explaining Toyota's past mobility initiatives and how the strategic partnership came into being, noting that it was a working group of young employees from both companies that drove the partnership.
MONET to be platform company that promotes next-gen mobility
SoftBank Corp. CTO and MONET CEO Miyakawa then outlined MONET's service concept. Referencing Japan's aging society, Miyakawa noted that by working closely with local governments, transportation operators and other companies, MONET will assist those with limited access to transportation and resolve local transportation issues.
SoftBank and Toyota illustrate the future of mobility
Leading the Mobility AI revolution through synergies with Toyota
SoftBank Group Representative Masayoshi Son stressed that mobility is a major area of focus for the SoftBank Group, as shown by the SoftBank Vision Fund's range of investments in the sector. Son said he was excited to join hands with Toyota, the top mobility company in the world, to help drive the Mobility AI revolution. He noted, "For me personally, this partnership is just phase one. I'd like to move ahead to phase two and three soon."
The time has come for a partnership to create the future of mobility
Toyota President Toyoda noted that humanity is in the middle of a great transformation that comes only once every 100 years. Toyoda said, "Toyota is transitioning from 'a traditional car company' into a 'mobility company' that provides services." By combining SoftBank's foresight and that Toyota's transportation strengths on the ground, both companies can create the future of mobility, he added.
Two of Japan's business titans discuss past, present and future
After the keynotes, Toyoda and Son, two top business leaders that represent Japan on the world stage, sat down for a fireside chat. In a lively conversation they covered a wide range of topics, including their thoughts on the MONET partnership, the differences between being a founder and a successor and the future of mobility. They also recalled their first meeting that took place twenty years ago.
Local Governments and Companies attend MONET Summit and Toyota President Appears as Surprise Guest!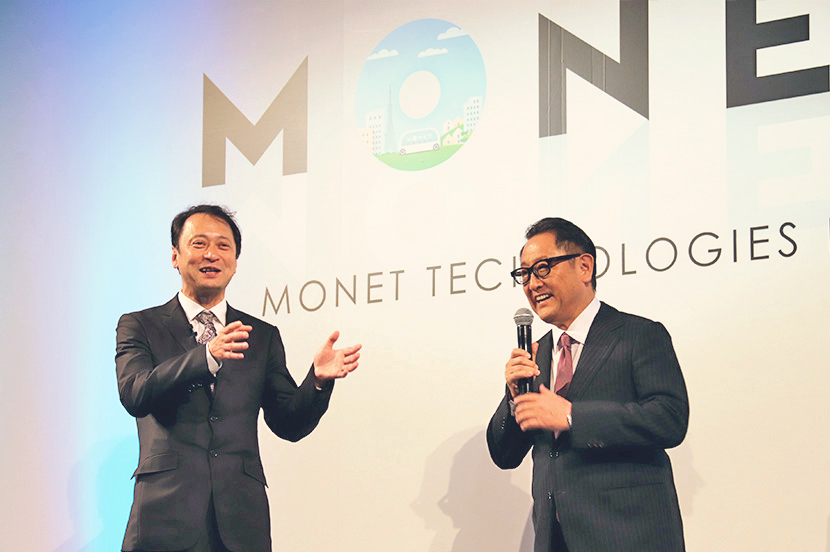 Approximately six months after announcing its formation, MONET held its first "MONET Summit" on March 28, 2019 at the Grand Hyatt in Tokyo. The event introduced MONET's future initiatives to an audience from local governments and companies in Japan.
Toyota President Akio Toyoda made a surprise appearance to kick off the summit. Addressing attendees, Toyoda said, "This great turnout shows everyone's high expectations toward MONET. I wanted to personally express my thanks by attending today."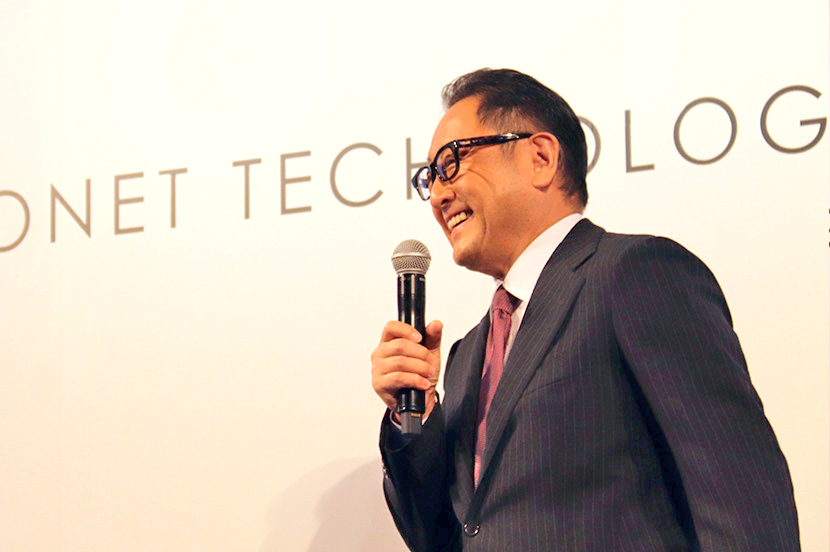 MONET Consortium established to develop partnerships for mobility innovation
Taking the stage, Junichi Miyakawa, MONET President and CEO and Representative Director & CTO of SoftBank Corp., said, "We established MONET to be the most helpful company in Japan twenty years from now. One step at a time, we want to be at the center of MaaS (mobility as a service) platforms in the coming self-driving era."
On the day of the conference, it was also announced that Hino Motors, Ltd. and Honda Motor Co., Ltd. formed a capital and business partnership with MONET. The formation of the MONET Consortium* was also announced to promote collaboration between companies to realize mobility innovation.
*

88 companies participating as of March 28, 2019.
MONET Director Keiji Yamamoto explained MONET's future plans to use e-Palette, Toyota's electric vehicle with autonomous driving functionality. He said, "By around 2023 we would like to offer e-Palette as part of MONET's services." MONET Representative Director and COO Yoshihide Shibao spoke about initiatives with local governments using on-demand buses and provided more detail on the newly formed MONET Consortium.
Top executives from participating companies in the MONET Consortium also gave presentations, and Toyota's e-Palette concept vehicle was displayed at the venue along with other on-demand concept vehicles.
Press releases:
MONET Forms Capital and Business Partnership with Hino Motors and Honda
(Original articles posted on October. 4, 2018, March. 28, 2019)
By SoftBank News Editors