PayPay Corporation, a joint venture established by SoftBank Corp. and Yahoo Japan Corporation, held a press conference on November 22, 2018 to announce a new campaign for its "PayPay" smartphone payment service that uses QR codes and barcodes.
What's "PayPay," by the way?
Launched in Japan in the fall of 2018, PayPay is a service that uses QR codes and barcodes for settlements on smartphones. PayPay's aim is to provide highly convenient services to both users and participating merchants to promote the adoption of cashless payments in Japan.
Press conference begins with video of PayPay in action at stores, restaurants, and even rickshaws!
PayPay offers more convenience than cash to enrich lifestyles
PayPay Corporation CEO Ichiro Nakayama started his presentation by explaining the vision behind PayPay and its service launch. He said,
Japan has a strongly rooted tradition to pay for things in cash, with it currently being used for 80% of transactions. While PayPay is just starting, we would like to provide services that are more convenient and offer greater benefits than cash.
With SoftBank smartphone and 'Yahoo! Wallet' customers, we will work to increase the number of PayPay users. We will also work closely with SoftBank to bring in more merchants and collaborate with Yahoo Japan in service areas. PayPay is also teaming up with India's largest digital payment company Paytm, a SoftBank Vision Fund portfolio company, to utilize its mobile payment technology and expertise in India. This will allow us to develop highly convenient services.
Nakayama introduced various initiatives that set the stage for a new, groundbreaking campaign. These included a feature to transfer money between individuals and a map function, as well as an expansion of stores and chains where PayPay can be used.
PayPay unveils "10 Billion Yen Giveaway Campaign"
The main event of the conference was the announcement of a new initiative, the "PayPay 10 Billion Yen Giveaway Campaign." Worth approximately $89 million in US dollar terms (using an exchange rate at the time of the press conference), the campaign signified PayPay's commitment to be No. 1 for both number of users and number of merchants.
For a limited time starting December 4, 2018, PayPay users received a 20% PayPay bonus on their PayPay payment amounts, with a bonus limit capped at 50,000 yen per month. The campaign also offered users a 1 in 40 chance to receive the full payment amount on each purchase, up to a limit of 100,000 yen per purchase. The full cashback odds were even better for Yahoo! Premium members and SoftBank/Y!mobile subscribers, at 1 in 20 and 1 in 10 chances, respectively.
With the campaign, users were encouraged to use PayPay more, and merchants in turn could see the benefits of attracting new customers by introducing PayPay.
Partners come to express their support for PayPay
In a show of support for PayPay, executives from companies using PayPay spoke of how they are promoting cashless payments and the possibilities of the campaign, among other things.
Executives and managers from H.I.S. Co., Ltd., EDION Corporation, Joshin Denki Co., Ltd., BicCamera Inc., Hotel Monterey Co., Ltd., YAMADA DENKI CO., LTD., Family Mart Co.,Ltd., Yahoo Japan Corporation, PayPay Corporation and SoftBank Corp. attended the event.
Taxi-Hailing Platform DiDi Launches Services in Tokyo and Kyoto, Announces Tie Up with with PayPay
Approximately four months later, on April 24, 2019, DiDi Mobility Japan, a joint venture established by SoftBank Corp. and Didi Chuxing that provides a taxi-hailing platform, held a press conference to announce an expansion in service areas and plans for a tie up with PayPay.
DiDi launches services in Tokyo and Kyoto after successful Osaka debut. Service areas to expand to 13 cities nationwide in FY2019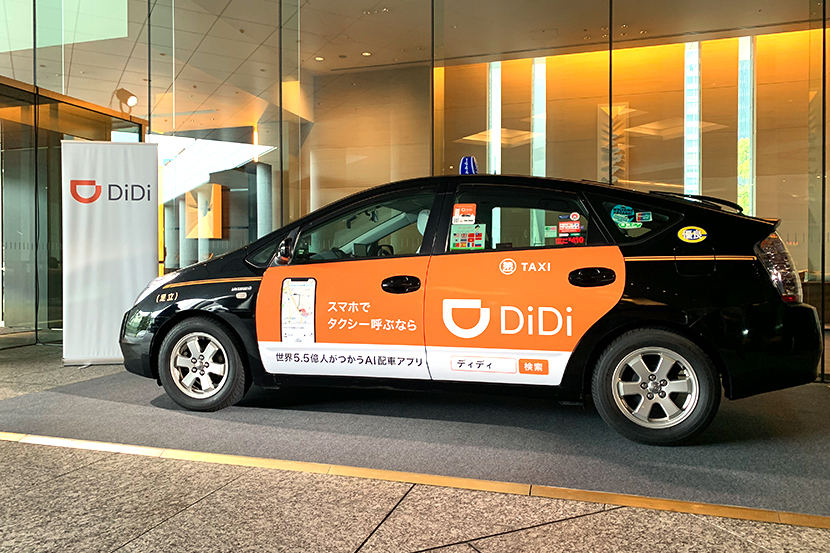 DiDi Mobility Japan's Director and Executive Vice President Keigo Sugano, who is also a Senior Vice President at SoftBank Corp., took to the stage to explain DiDi's track record in the Osaka area, the first service area it launched in on September 2018.
Since launch, the number of partner taxi companies expanded by more than three times to 42 operators. Sugano spoke of how DiDi is helping taxi companies boost efficiencies, noting that, for example, despite similar driving distances, taxis with DiDi installed enjoyed a 5% load rate increase and a 10% increase in operating revenues. Taxi operators with DiDi also benefited from increased ridership thanks to promotions aimed at tourists visiting from China that coincided with National Day and Chinese New Year holidays.
Three major service launches were announced after Sugano's introduction. First was a tie up with "Yahoo! Norikae Annai," an app offered by Yahoo Japan Corporation that helps people navigate on different transportation platforms. The app now displays taxi rides using the DiDi platform as a transportation option when users search for routes. Second was an expansion of service areas. He announced service launches for Tokyo and Kyoto starting April 24, and DiDi Mobility Japan plans to further expand to 13 cities nationwide within fiscal 2019. Third, promotional campaigns for Tokyo and Kyoto were announced. In Tokyo, users do not have to pay a pickup charge and users in the Kyoto area can receive a coupon worth 1,000 yen during the campaign.
DiDi users will also be able to pay for rides using PayPay. Is a new campaign on the horizon?
A special surprise announcement came at the end of the press conference. PayPay Corporation CEO Ichiro Nakayama came on stage to reveal that from the end of May, DiDi users will be able to use PayPay for payment when using taxis with the DiDi platform. Both companies plan to offer a special promotional campaign from mid-June that offers special benefits when using PayPay. Stay tuned for more!
Press releases:
Get 20% Cashback using PayPay for Payment! A Chance to Win 100% Cashback every 10 times! "10 Billion Yen Giveaway Campaign" to start on December 4
Notice on Capital Increase by Third Party Allotment
(Original articles posted on November. 22, 2018, April. 24, 2019)
By SoftBank News Editors