On August 4, 2020, SoftBank Corp. (TOKYO: 9434) held its earnings results briefing for the three months ended June 30, 2020 for the fiscal year ending March 31, 2021 (Q1 FY2020). At the event President & CEO Ken Miyauchi took the opportunity to explain SoftBank's strategies to achieve 1 trillion yen of operating income in FY2022, digitalization initiatives for consumers and enterprises, and consolidated financial results for Q1 FY2020.
Digital shift in top gear over space of three months
Miyauchi began his presentation with remarks that analyzed the impact of COVID-19. "This quarter was significant because it greatly accelerated our digital shift. We've gained confidence that we can grow our business, even under the current circumstances with regard to COVID-19," he said. Many customer interactions have gone from in-person to digital, he explained. For instance, promotional on-site events for consumers have shifted to live streaming events, while the number of business discussions with enterprise customers have greatly increased through the use of online meeting tools.
Turning his attention to employees and internal systems, Miyauchi expressed his high expectations for the "Digital Worker Project," an initiative that aims to increase productivity by transforming work processes and workstyles.
The road to 1 trillion yen in operating income
Miyauchi then unveiled strategies for how SoftBank aims to achieve FY2022 financial targets: revenue of 5.5 trillion yen, operating income of 1 trillion yen and net income of 530 billion yen. He noted that growth strategies centered on 5G, IoT, FinTech, E-commerce as well as structural reforms that utilize AI and RPA will be key to achieving these targets.
One growth strategy is based on leveraging the smartphone payment service "PayPay" as a platform to drive synergies across financial, mobile communication and E-Commerce services. Miyauchi also explained other strategies to achieve the FY2022 targets, including increasing smartphone subscriptions, accelerating the growth of the digital solutions business for enterprises, optimizing the cost structure by maintaining fixed costs, and efficiently utilizing the resources of group companies.
Enterprise and Yahoo segments contribute to profit increase
Reviewing the highlights of Q1 FY2020, Miyauchi said that revenue was 1,172.6 billion yen (a 1% increase year-on-year) and operating income was 279.9 billion yen (a 4% increase year-on-year), which represented record highs for Q1. Net income was 152.1 billion yen (an 8% decrease year-on-year) while adjusted free cash flow was 236.3 billion yen (a 49% increase year-on-year). The solutions business of the Enterprise segment and the E-Commerce business of the Yahoo segment greatly contributed to the profit increase, Miyauchi explained.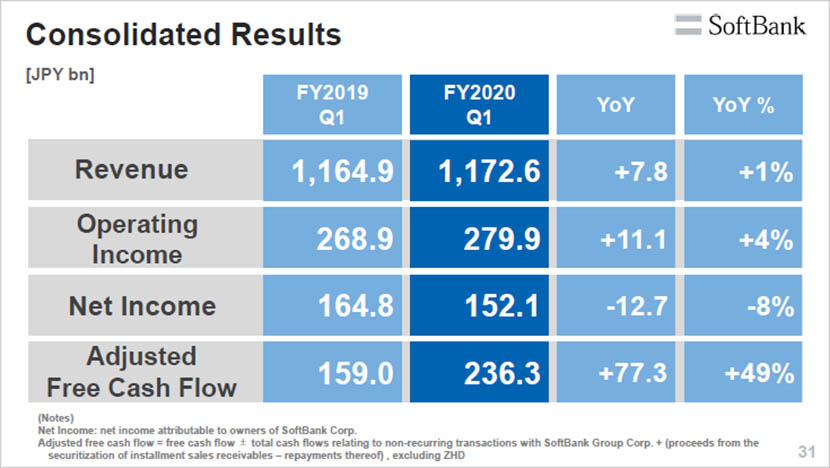 Miyauchi closed the Q1 earnings presentation with a renewed commitment to growth. "By shifting our 5G rollout into high gear and driving our growth strategies and structural reforms, we'll accelerate our expansion in IoT, E-Commerce, FinTech and other growth areas," he said.
(Original article posted on August 5, 2020)
by SoftBank News Editors