26 years ago, on January 31, Yahoo Japan Corporation was established. Formed as a 60:40 joint venture between the current SoftBank Group Corp.—the parent company of SoftBank Corp. (TOKYO: 9434)—and the former US-based Yahoo! Inc., Yahoo Japan has since been integral to the success of SoftBank's Internet and communications business over the years.
How has Yahoo Japan been key to SoftBank's growth? Read on to find out more.
On January 12, a press conference was held to announce the launch of Yahoo Japan. First helmed by Masayoshi Son as President & CEO, Yahoo Japan worked hastily to launch its first service in April, the "Yahoo! JAPAN" search engine, the first commercial one in Japan. Other hit services followed in the remainder of the 1990s, including "Yahoo! Weather," "Yahoo! News," "Yahoo! Mail," "Yahoo! Shopping" and "Yahoo! Auctions."
Reaching a 100 million page views per day in 2000, the Yahoo! JAPAN portal became synonymous with the Internet in Japan. Firmly established as a household name, the "Yahoo! JAPAN" brand was key to SoftBank's next foray: Internet broadband services. Starting September 2001, BB Technologies Corporation—a forerunner of the current SoftBank Corp.—began providing comprehensive broadband services under the "Yahoo! BB" banner. While Japan was an Internet laggard at the time, the fast and affordable ADSL-based service helped to drive Internet adoption.
Collaborations in the mobile era
Yahoo Japan also played a critical role in SoftBank's next chapter: mobile communications. After the current SoftBank Group Corp. acquired mobile operator Vodafone Japan (subsequently SoftBank Mobile Corp., another antecedent of the current SoftBank Corp.) in 2006, Yahoo Japan helped make the mobile communications business a success. For example, before smartphones went mainstream, mobile network operators in Japan operated their own customized Internet portals and provided exclusive handsets. SoftBank Mobile provided handsets with a "Y!" button that offered quick access to the "Yahoo! Keitai" mobile Internet portal.
Collaborations with Yahoo Japan in the following decade continued. In 2014, a new mobile brand, "Y!mobile" was launched, and 2015 saw the launch of the "Mobile E-commerce Revolution." This made it possible SoftBank smartphone users to make purchases on Yahoo! Shopping with a "smart login" that eliminated the need for inputting cumbersome passwords and credit card info, among other new conveniences.
More recently, PayPay Corporation, a leading mobile payment provider in Japan, is another example of successful collaboration between SoftBank and Yahoo Japan. Formed by SoftBank Corp. and Yahoo Japan in 2018, PayPay's payment services are now highly integrated with services offered by SoftBank Corp. and Yahoo Japan, driving synergies and offering customers significant savings.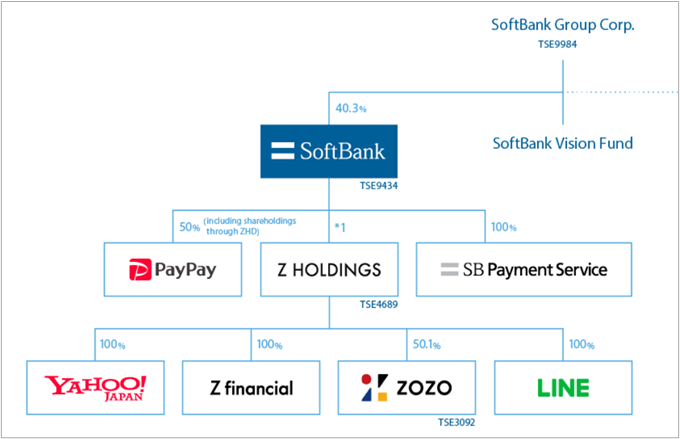 June 2019 brought SoftBank Corp. and Yahoo Japan even closer together as Yahoo Japan became a consolidated subsidiary of SoftBank Corp. before transitioning to a holding company named Z Holdings Corporation in October of the same year. With LINE Corporation joining Z Holdings in March 2021, SoftBank Corp., Yahoo Japan, PayPay and LINE now have an unparalleled number of customer touchpoints: 55 million mobile/broadband users, 80 million online users, 40 million users and 88 million users, respectively (as reported in SoftBank Corp.'s supplementary earnings materials issued on November 4, 2021).
As a key part of SoftBank Corp.'s "Beyond Carrier" growth strategy, the future is sure to see many more collaborations with Yahoo Japan.
(Posted on January 31, 2022)
by SoftBank News Editors