On February 3, 2022, SoftBank Corp. (TOKYO: 9434) President & CEO Junichi Miyakawa presented earnings results for the nine months ended December 31, 2021 (Q1-Q3) in the fiscal year ending March 31, 2021 (FY2021).
Continued progress toward achieving full-year forecasts
In Q1-Q3, consolidated revenue increased by 10% year-on-year (YoY) to 4,173.8 billion yen and operating income decreased slightly by 2% YoY to 821.2 billion yen. Steady profit increases in the Enterprise and Yahoo! JAPAN/LINE segments offset the impact on profit in the Consumer segment owing to intensified competition in mobile services.
The Q1-Q3 results showed that steady progress is being made toward SoftBank's FY 2021 full-year forecasts, with 76% achieved for revenue and 84% for operating income in Q1-Q3. The revenue and operating income targets, if met, will be SoftBank's highest ever.
Enterprise and Yahoo! JAPAN segments continue to perform strongly and generate synergies
In Q1-Q3, the Enterprise segment saw a 4% increase in revenue and a 13% increase in operating income YoY. Business Solution and Others revenue continued to see strong growth, registering a 22% YoY increase in recurring revenue. Miyakawa mentioned that digital marketing and security businesses were key drivers, with each registering 210% and 142% YoY revenue increases, respectively.
While the Consumer segment registered a slight decrease in operating income due to the impact of intensified competition in mobile services, in Q3 it saw a recovery in mobile subscriber net additions, which led to a 6% YoY increase in cumulative smartphone subscribers.
Miyakawa noted that synergies with services offered by other group companies like PayPay and LINE are progressing nicely. "Promoting the use of group services is reducing churn among our mobile service customers," he said. Miyakawa said that he will continue to strengthen collaboration among group services.
In Q1-Q3 the Yahoo! JAPAN/LINE segment saw a 33% YoY increase in revenue and an 24% increase in operating income owing to the business integration of Z Holdings Corporation and LINE Corporation in March 2021, as well as sound growth in the media business. E-commerce merchandise transaction value was also up 12% YoY.
The smartphone payment service PayPay continued to see remarkable growth, with more than 45 million registered users as of January 2022 and 2.63 billion payments registered in Q1-Q3, an 85% increase YoY. Miyakawa emphasized that the number of payments is an important indicator for a service like PayPay, which is aiming to become a "Super App" that encompasses a range of functions for daily life.
PayPay's gross merchandise value (GMV) for Q1-Q3 came to 3.9 trillion yen, a 73% increase YoY. For the Q3 quarter, PayPay registered a record-high quarterly GMV of 1.5 trillion yen. PayPay Corporation also registered a quarterly sales record of 20.7 billion yen in Q3, thanks in part to charges for small and medium-sized merchants that began in October 2021.
Miyakawa highlighted a new service from PayPay called "PayPay Atobarai" (pay later) that launched in February 2022. He said that he expects the new service will contribute to increased payments and GMV as it lets shoppers make purchases more easily with deferred payments.
Strengthening ESG initiatives with first ESG Bond
Miyakawa pointed out that SoftBank's ESG initiatives have been highly regarded by external third parties, noting that SoftBank won a Nikkei SDGs Management Award in November 2021, and that it was included in ESG investment indices of MSCI, Dow Jones, FTSE and other leading global investment indices.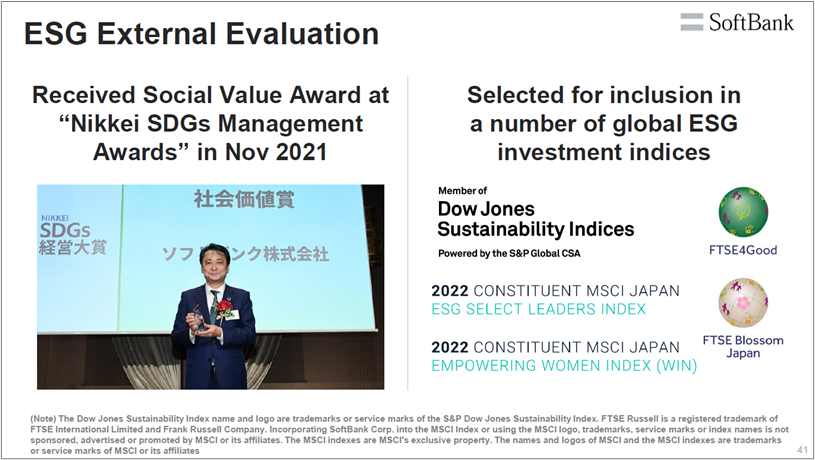 Furthermore, Miyakawa highlighted that SoftBank's first-ever ESG bond was issued in January 2022 to raise 30 billion yen for its HAPS (stratospheric communication platform) business, which aims to bridge the digital divide. Funds raised will be used for HAPS research development and business preparation. Miyakawa stressed that SoftBank will continue to focus on ESG initiatives going forward.
(First posted on February 1, 2022, updated on February 7, 2022)
by SoftBank News Editors