In delivering the keynote speech at this year's SoftBank World in Tokyo, Junichi Miyakawa, President & CEO of SoftBank Corp. (TOKYO: 9434), pulled no punches. At the online event for enterprise customers, he noted Japan continues to lag behind other advanced industrialized countries when it comes to digital transformation, or DX. But the good news is that SoftBank is capitalizing on the opportunity to narrow the DX gap by pushing ahead with a number of advanced initiatives, including projects in autonomous driving, disaster preparedness, and the first steps towards creating smart cities and towns using Digital Twin technology.
More than most countries, Japan is experiencing the effects of a rapidly aging and declining population. At the same time, young people are moving from rural areas to large cities like Tokyo and Osaka, causing a worker shortage in the former and congestion in the latter.
"So, in using DX to make cities and towns smart," said Miyakawa, "we first need to take into account the different situations that exist in rural and urban areas."
Three DX Projects changing rural Japan
Miyakawa described three DX initiatives led by SoftBank and its group companies that demonstrate the transformation taking place in rural Japan.
Ina is a city of approximately 68,000 residents in Nagano Prefecture, a mountainous area in the center of Japan that is experiencing a serious shortage of doctors in certain areas due to depopulation. To tackle this problem, MONET Technologies Inc., a joint venture with SoftBank Corp., Toyota Motor Corporation and other Japan-based automotive manufacturers, has introduced medical mobility as a service (MaaS) by providing a mobile clinic for use by the healthcare community there.
Besides various kinds of medical equipment and a lift to accommodate wheelchair users, the clinic on wheels is equipped with a videoconferencing system that enables specialists to provide remote diagnoses. The mobile service began operating in 2019 and has made over 300 visits to patients living locally and in outlying areas, providing a variety of treatments, especially for those unable to travel.
The town of Sakai in Ibaraki Prefecture, 70 km north of Tokyo, has no rail service and suffers from an acute scarcity of bus drivers. The cutback in public transport has made life difficult for senior citizens, children and residents without cars. To alleviate the hardship, BOLDLY, a SoftBank subsidiary, has implemented two autonomous bus services—the first self-driving buses to use public roads in Japan. The autonomous buses run on two routes through the town, and more than 10,000 people have used the scheduled services since they began in late 2020.
Miyakawa revealed that the experience SoftBank has garnered from Sakai and other driverless projects is helping the company prepare to launch some 40 autonomous driving services in rural locations nationwide by 2025.
The third rural program is for digital disaster preparedness in Aizuwakamatsu City in Fukushima Prefecture, a historic city about 300 km north of Tokyo. In the event of a natural disaster, the smartphones of registered residents will display the closest routes to shelters as well as show areas of risk that should be avoided. The technology also enables rescue services to pinpoint the location of citizens and therefore to respond quickly to those unable to evacuate without help, ensuring no one gets left behind should a calamity occur. As well as gathering and integrating the data, SoftBank is working with the city government and relief services to implement the system, and it is holding training sessions for residents on how to use the service.
What smart buildings can do
Turning to urban smart city developments, Miyakawa noted Tokyo has the highest congestion among the cities of G7 countries. With this density comes a variety of challenges, not least traffic jams, crowd management issues when large events are held, and evacuation mishaps during times of disasters.
Miyakawa observed that some of the DX technologies already in use in SoftBank's headquarters located in the Takeshiba district of Tokyo are being employed to deal with such challenges. While the building is known for its use of facial recognition to control security and staff access, and for the deployment of different robots to keep the building clean and to deliver various items to SoftBank employees, Miyakawa emphasized that the building's operations are designed to be automatically controlled by AI based on a wide range of data sources.
For instance, IoT sensors and cameras both inside and outside the building can be utilized to keep track of visitor numbers and characteristics. When this is combined with weather forecasts and scheduled events data, it becomes possible to predict the number of visitors on a given day, which helps building operators calculate staffing needs, and restaurants and shops in the building to order the optimum amounts of ingredients and inventory.
What Digital Twin makes possible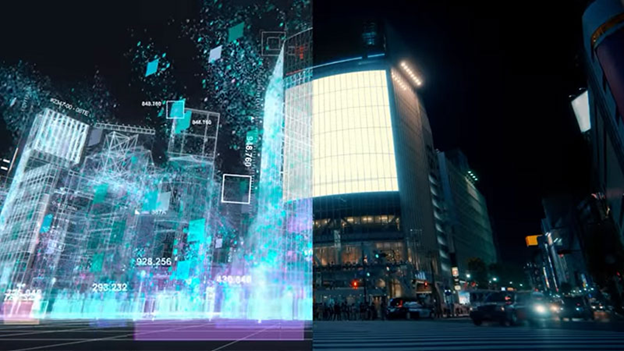 On a larger scale, SoftBank has created a 3D map of Tokyo by employing customized aircraft and vehicles that can collect 1 million points of data per second, with each point representing a dot on the external surface of objects such as buildings. The map can be enhanced with weather data, smartphone location-based data, as well as AI camera analyses, transportation timetables, and social media posts concerning Tokyo. Then, by applying Digital Twin technology to the result, SoftBank can create a virtual representation of the city in the digital space at a particular moment, which enables it to conduct a variety of simulations under various conditions.
For instance, the company is conducting disaster prevention simulations in the Takeshiba district where its headquarters is located. By simulating how crowds of people will move at once in and from a building during an evacuation, it is possible to visualize dangerous routes and congested areas.
"By conducting such simulations," said Miyakawa, "it's possible to consider in advance how to evacuate people more safely and smoothly in the event of disasters."
These technologies combined with Digital Twin can also be used to conduct simulations to help realize smart cities. SoftBank is working with local governments to prepare for their creation, by, for instance, simulating the use of self-driving cars and transport that will be a feature of such cities.
In ways like these, SoftBank is collaborating with academia, industry partners, and central and local governments to devise new ways of operating and conducting business and commerce. And it is through such collaboration that Japan can become more efficient and better able to compete with other advanced countries.
(Posted on August 2, 2022)
by SoftBank News Editors