On March 5, SoftBank Corp. (TOKYO: 9434) held a press conference in Tokyo to announce the launch of commercial 5G services.
5G LAB to deliver immersive entertainment experiences
Jun Shimba, Representative Director & COO and Head of the Consumer Business Unit, told the audience that the SoftBank 5G network will go live in Japan on March 27. Simultaneously, SoftBank will launch new products and services that take full advantage of 5G's high speeds and capacity.
One of these offerings is "5G LAB," a new content service that will deliver realistic and immersive viewing experiences. 5G LAB is comprised of four categories: "AR SQUARE," which will offer Augmented Reality experiences, "VR SQUARE," which will deliver Virtual Reality experiences, and "FR SQUARE," which will provide Free viewpoint Reality experiences; "GAME SQUARE," a cloud gaming service based on NVIDIA's "GeForce NOW Powered by SoftBank," is slated to launch in June.
To give people a true sense of what 5G LAB offers, SoftBank will open booths at 45 stores initially in major cities across Japan so customers can experience the new services first hand.
FR SQUARE adds a multi-angular dimension to baseball viewing
To demonstrate FR SQUARE, Fukuoka SoftBank HAWKS infielder and heavy hitter Nobuhiro Matsuda and catcher Takuya Kai joined the event from FUKUOKA PayPay Dome via live broadcast. The stadium was equipped with 60 cameras to capture numerous angles of Matsuda's swing. After viewing the smooth, panoramic video that strung the multi-angle images of Matsuda together, Kai said, "This will be great for kids who want to improve their batting."
AR SQUARE enables up close and personal viewing of basketball moves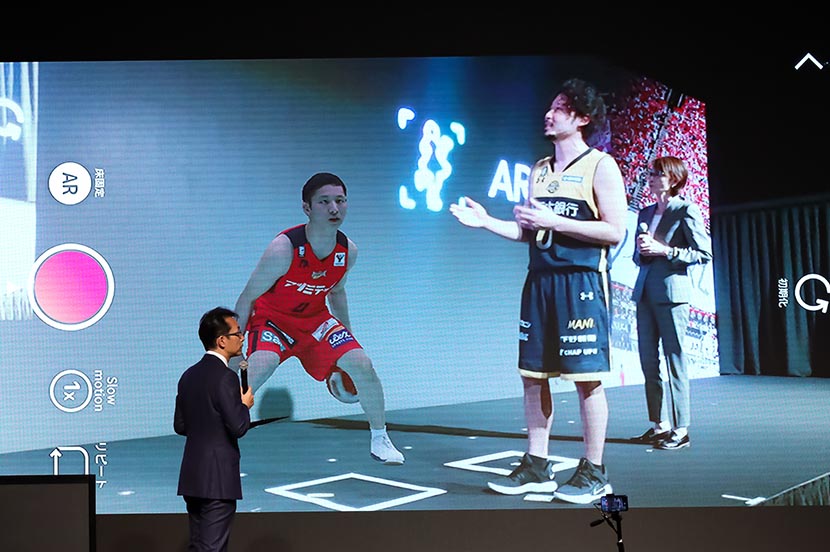 Japan Basketball Association (JBA) President Yuko Mitsuya and Yuta Tabuse of the B.League's UTSUNOMIYA BREX then appeared on stage to demonstrate AR SQUARE. Tabuse viewed lifelike footage of San-en NeoPhoenix player Yuki Kawamura in action, and explained the finer points of Kawamura's basketball moves.
Following this session, Shimba announced that SoftBank will continue to be a main sponsor of JBA, building on the partnership that started in 2016.
4 smartphones to initially be offered in SoftBank 5G lineup
SoftBank will offer four 5G compatible smartphones starting March 27 and thereafter. Shimba unveiled the initial lineup that consists of the AQUOS R5G by Sharp, the ZTE Axon 10 Pro 5G, the LG V60 ThinQ 5G, and the OPPO Reno3 5G. All smartphones in SoftBank's 5G lineup also come with 5G LAB apps preinstalled.
Shimba demonstrated the LG V60 ThinQ 5G by viewing a basketball game, and showed how its dual screen is great for watching live action on one screen while keeping track of play statistics on another. The OPPO Reno3 5G, an entry model, will be exclusive to SoftBank in Japan. The AQUOS R5G sports four cameras and can capture video in 8K, while the ZTE Axon 10 Pro 5G is equipped with the Snapdragon 865, a new chipset that enables stress-free enjoyment of apps with high memory requirements.
5G Basic Fee to be waived for two years
While an extra "5G Basic Fee" of 1,000 yen (not including tax) per month is required to use SoftBank 5G services, Shimba said SoftBank will waive these monthly charges for a period of two years under the "5G No Basic Fee Campaign" for those who sign up by August 31, 2020. By lowering barriers to entry, even more people will be able to enjoy the appeal of SoftBank 5G services, he said.
Closing the event, Shimba said, "Telecommunications infrastructure is the most important thing with 5G. About three years ago, SoftBank pioneered the deployment of Massive MIMO, a core component of 5G technology. We're going to effectively utilize our know-how from this experience and switch our nation-wide network of roughly 230,000 base station sites over to 5G."
(Original article posted on March 5, 2020)
by SoftBank News Editors