Support for Childcare
and Nursing Care
Supporting a balance
between childcare and work
One of the most fundamental duties for companies is creating a work environment supportive of childbirth and parenting, where employees balancing work and childcare can reach their full potential. In order to achieve this, SoftBank has put in place childcare support system policies and a general business plan in accordance with Japan's Law on the Promotion of Measures to Support Fostering of the Next Generation.
Company measures to address Japan's low birthrate
SoftBank Corp. provides regular employees with childbirth allowances ranging from 50,000 yen up to a maximum of five million yen. In fiscal 2016, around 840 employees gave birth to their first or second child, while around 90 employees had their third, fourth, or fifth child.
Years with SoftBank
Under one year
Over one year
Number of children born
All
First born
Second born
Third born
Fourth born
Fifth born and beyond
Allowance
20,000 yen
50,000 yen
100,000 yen
1 million yen
3 million yen
5 million yen
Child support system policy outline
To support employees during pregnancy, childbirth, and childcare, SoftBank Corp. offers flexible work systems to employees from pregnancy until the child reaches the end of elementary school.
Details
Category
System
Content
Maternity leave
Child plan
Leave required for hospitalization due to infertility treatment
(unpaid unless replaced with accumulated paid vacation days)
Maternity leave for outpatient medical care
Leave required for medical checkups during pregnancy available until one year post-delivery
(unpaid unless replaced with accumulated paid vacation days, half days possible)
Maternity protection care leave
If received a doctor's order regarding maternal protection
(can apply to alleviate the work burden or apply for Maternity Protection leave)
(Maternity Protection leave is unpaid unless replaced with accumulated paid vacation days)
Maternity leave
Six weeks prior to and eight weeks after childbirth
(employees working in sales may take maternity leave sooner)
Paternity leave
Five days during the period one week prior to and one month after childbirth
(paid vacation, half days possible)
Leave and holidays during childcare
Childcare leave
Until the day before the child turns one, five days of childcare leave are paid. Paid leave for childcare may be taken even when the employee's spouse is able to provide childcare.

[Notes]

*

In cases where both parents are SoftBank employees, the "Mum and Dad Childcare Leave Plus" program can be utilized until the child is 14 months old.

*

If the child cannot be placed in a nursery school, leave can be extended until the child is two years old.

*

If the employee is in sales, leave can be extended until the child is three years old.

Sick / injured childcare leave
Ten days per year per child until the child enters elementary school
(unpaid unless replaced with accumulated paid vacation days. Half days available)

[Note]

*

To be used for home care, vaccination/health check-ups, etc.

Kids' leave
Ten days per year until the child graduates from elementary school
(unpaid unless replaced with accumulated paid vacation days. Half days available)

[Note]

*

To be used for home care, vaccination/health check-ups, parental attendance at school/nursery, in cases where childcare is needed due to circumstances at nursery, kindergarten, elementary school or hospitalization of the spouse.

Special work arrangements
Short working hours during pregnancy
Working hours can be shortened by up to two hours and 45 minutes per day anytime during pregnancy
Flexible work schedule during pregnancy
Flextime system between 7:30am-10:00pm anytime during pregnancy
Short working hours for childcare
Working hours can be shortened by a maximum of two hours and 45 minutes per day until the child finishes elementary school
Flexible work schedule for childcare
Flexi-time system between 7:30am-10:00pm until the child finishes elementary school
Postponed and accelerated work schedule for childcare
Work start time can begin at any 15 minute increment from 7:15am to 10:00am. Can be used alongside short working hours for childcare.
Overtime / late-night work limits for childcare
Available until the child graduates elementary school
Childcare break time
Until the child turns one

[Note]

*

Break times can be secured for childcare during working hours.
[Note]

*

Due to the nature of sales positions, sales employees are subject to a different system. Until the child turns 3, staff can choose a work schedule from three options, all of which have a limit of six working hours per day. Other benefits include working outside of core hours, limited night-shifts, and exemption from working overtime, all of which apply until the child completes the third grade at elementary school.
Initiatives to alleviate childcare concerns
Orientations and consultation meetings are held to provide parental support to employees. To lessen anxiety during childcare leave (including leave taken before and after birth), employees may continue to use their company-issued mobile phone and iPad and can access the company's intranet and e-learning tools.
Additionally, employees have access to daycare, babysitting, and housekeeping services through our employee welfare program "Benefit Station", and can receive childcare subsidies for children attending affiliated nursery schools.
[Note]

*

Benefit Station is a benefit welfare service provided by Benefit One Inc.
| | |
| --- | --- |
| Consultation meeting held prior to maternity leave | A consultation meeting with HR to discuss and receive explanations on services available during pregnancy, as well as procedures and subsidies after childbirth. An e-learning session is also available for employees unable to attend in person. |
| Orientation during childcare leave | An orientation open to both parent and child which takes place during childcare leave. Discussions are held amongst employees on childcare leave about systems and preparation for returning to the workplace. The orientation is a great opportunity to spend time with other working mothers and reacquaint with colleagues after being away from the office. |
| Return to work orientation | A discussion held to discuss any issues about returning to work, and introduce return to work systems and communities. |
Family orientated activities
In cooperation with NPO C.C.C. Furano Nature School, SoftBank Corp. holds programs every year during the school summer break to foster understanding of nature and the environment as well as to help build strong family units. The programs are an opportunity for families to spend time together in the rich nature of Hokkaido.
The Company offers a number of programs to help strengthen bonds between friends and family. These including Family Day, an event where family members of employees can visit the office, Family Award, a showcase for family pictures, and paid-leave vacation.
At the October 2019 Family Day 950 employee families came and enjoyed a festival style event as well as taking commemorative photographs with Pepper.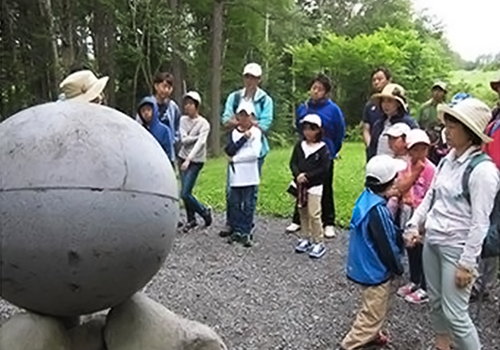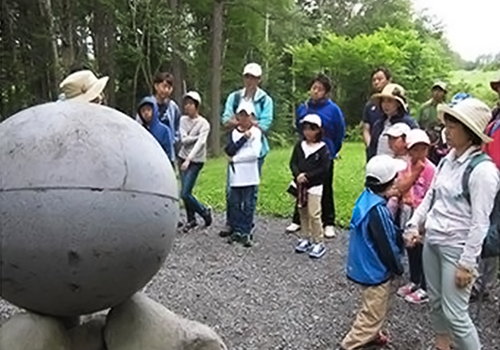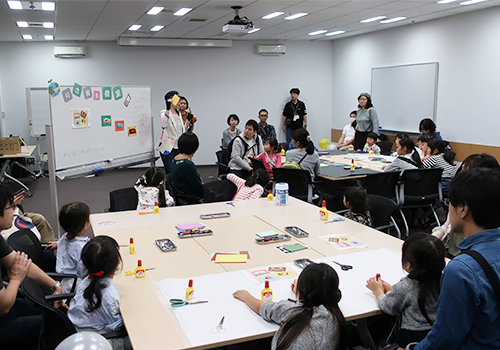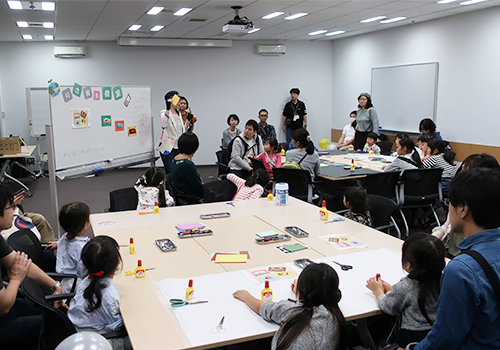 Building a strong employee support network in childcare
Oya Oya Club (Parents Club) was established in 2004 by a group of childcare peer supporters with the aim of improving parent-child communication.
The club provides communication training through workshops on basic counseling and coaching, which teach skills for understanding children's communication signals and building trust. The club also builds awareness in topics such as children's emotional development and parents' communication habits, both of which significantly influence communication. This nine-session course is held twice a year during employees' lunch break, and a mix of 20 male and female employees participate in each session, with 410 individuals having completed the course thus far.
Alongside this, events including lectures and lunches held by women community groups and activities aimed at fathers are also ongoing.
Supporting nursing care
and work balance
Japan's decreasing birthrate and aging population are bringing about a period of demographic burden.
By enhancing the provision of information and implementing a support system to respond to employees who wish to balance work and nursing care, we aim to reduce employee turnover due to nursing care responsibilities to zero.
Category
System
Content
Leave and holidays during nursing care
Long-term nursing care leave
Up to one year
(division across the year possible, unpaid unless replaced with accumulated paid vacation days)

[Note]

*

to be used for family nursing care, hospital accompaniment

Nursing care leave
10 days per year
(necessary caregiver support status needed, 5 days for non-permanent or junior employees)

[Note]

*

to be used for family nursing care, hospital accompaniment

Special work arrangements
Short working hours for nursing care
Working hours can be shortened by up to two hours and 45 minutes per day
(application for extension required on a yearly basis; no extension limit)
Flexible work schedule for nursing care
Flexi-time system between 7:00am-10:00pm
(unavailable for sales employees)
Postponed and accelerated work schedule for nursing care
Work start time can begin at any 15-minute increment from 7:15am to 10:00am. Can be used alongside short working hours. (Not available for sales employees)
Overtime / late-night work nursing-care limit
Limits on overtime and late-night work due to nursing care for family possible