Management Policy

and Strategy
Corporate philosophy
Information Revolution –
Happiness for everyone
The Company and its subsidiaries (hereinafter, "the Group") aspire to realize the following corporate philosophy: "Information Revolution – Happiness for everyone." The Group aims to be a provider of the most essential services and technologies to people around the world. To this end, the Group will seek to maximize corporate value through its wide range of businesses in the information and technology industry.
Corporate Philosophy,


Vision and Values
Business environment

and SoftBank's vision

To the new stage of
Information Revolution

The Group operates in the fast-changing information and telecommunications industry. In this industry, the Group has experienced several paradigm shifts driven by breakthroughs in technology. First, PCs were connected over the Internet and advances in broadband technology enabled faster communication speed. This was followed by the emergence of smartphones - devices that allow users to access broadband technology anywhere, anytime. This evolution in technology has brought significant change for people's lifestyle and has redefined businesses.

With the upcoming of next-generation mobile communication technology 5G (fifth generation mobile communications system), Internet of Things (IoT) - a technology that will connect devices, machines, objects besides people - is becoming reality. The widespread use of the big data collected by IoT and fast-evolving Artificial Intelligence (AI) has triggered a new round of paradigm shift - one that will dramatically transform people's daily life and business style. In essence, a digital transformation is about to happen.
During a paradigm shift, some companies achieved big growth by capturing the trend of technology. However, many of them then lost ground in the face of disruptive innovators brought forth by next paradigm shift.
The Group has achieved growth by successfully taking advantage of these paradigm shifts and turning them into business opportunities. This has been made possible by the Group's corporate culture, with which, we persistently pursue cutting-edge technologies and ideas without being preoccupied by the past, and execute them in an innovative and creative manner.
In the midst of the current digital transformation, we expect a large number of business opportunities to emerge. We will steadily advance to a new stage of growth by unearthing, investing in and collaborating with unicorns - companies with outstanding growth potential in the current paradigm shift.
Operating policy
The Group aims to achieve sustainable growth and
mid- to long-term corporate value increase by
implementing both its growth strategy and structural reform.
The Group aims to attain further growth in the telecommunications business and through the expansion of new businesses by leveraging collaboration with SoftBank Group's portfolio companies and other partners. Concurrently, the Group has been carrying out structural reform to improve its efficiency and productivity by using AI and Robotic Process Automation (RPA).
Growth strategy "Beyond Carrier"
The Group aims to achieve
sustainable growth through both
customer expansion and
new businesses development
Guided by our growth strategy named "Beyond Carrier", we aim to achieve growth through two drivers. As the first driver, we are working to gain further growth in the telecommunications business. As the second driver, we plan to grow our new businesses by applying advanced technologies such as AI and IoT, and leveraging our existing telecommunications business platform. We will realize a virtuous cycle by growing those new businesses, and harnessing this growth as a differentiating factor to further expand the Group's customer base, and eventually aim to achieve sustainable growth.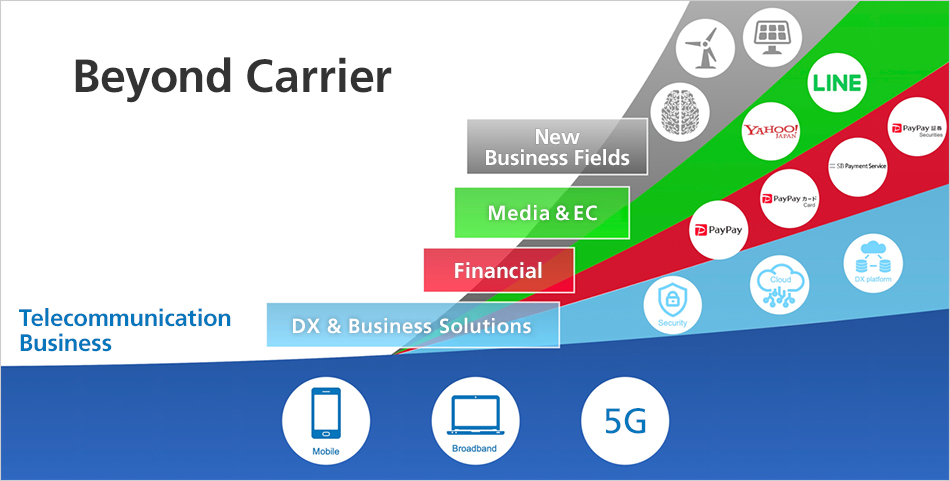 Expanding the customer base
The Group has been implementing marketing strategy and initiatives to make SoftBank continuously "Liked" by our customers. The Group provides fast and smooth wireless communication experience along with great deals and benefits. Specifically, we are implementing a multi-brand strategy with three brands, new marketing initiatives such as high-usage data plans, which we pioneered in Japanese market, and collaboration with Yahoo Japan. Through these initiatives, we are differentiating the Group from its competitors in the industry.
Multi-brand strategy
In the Mobile Communications Service, the Group provides three brands - SoftBank, Y!mobile and LINE MOBILE. As smartphones become essential tools in daily life, the Group is focused on promoting the widespread adoption of smartphones and increasing the number of subscribers. Offering multiple brands enables us to provide customers with a wider range of options. By executing this strategy, we will continue to fulfill the diverse needs of our customers.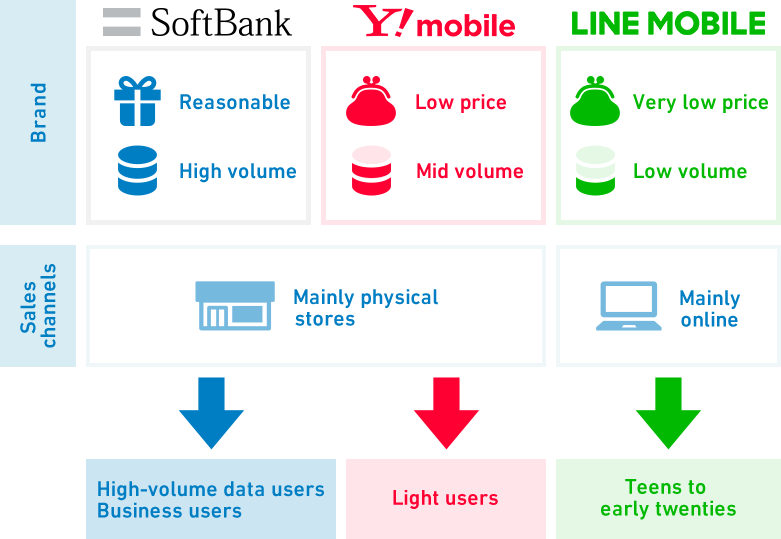 Provision of

new marketing initiatives

The Group endeavors to ensure customer satisfaction by providing innovative marketing initiatives and services.
Under the SoftBank brand, the Group provides Ultra Giga Monster Plus, the industry-leading 50 GB data plan in Japan for individuals. This plan provides individual users with virtually unlimited usage of mobile data. It enables customers to fully enjoy their smartphone usage without having to worry about exceeding their data allowance. Additionally, our Super Friday promotions provide great deals and benefits exclusively to SoftBank smartphone users. On Fridays, we offer our users coupons for products such as ice cream and beef bowls at retailers.

Differentiation through collaboration

with Yahoo Japan

We are strengthening our alliance with Yahoo Japan Corporation, an affiliated company of our parent company, SoftBank Group. Through the alliance, we are differentiating ourselves from competitors in the industry as we fortify ties between our telecommunications business and the Internet business. The customers of SoftBank and Y!mobile automatically receive complementary Yahoo! Premium membership and benefits, and are granted reward points of up to 10% of their shopping value for purchases made on Yahoo! shopping. Through these initiatives, we are working to expand our customer base as we strengthen relationships with existing customers.

5G strategy
Together with the expansion of our customer base, we are also working to upgrade our networks to be ready for the IoT era. These efforts focus on developing 5G technology for next-generation wireless communication systems. We plan to launch 5G services in 2019. As early as April 2018, we rolled out a commercial NB-IoT (narrow band-IoT) service, a low-cost, energy-efficient communications service for IoT devices. Preparations for 5G service are proceeding smoothly. Notably, we have received an allocation of the 3.4 GHz spectrum for use in pre-5G services.
When IoT gains traction on a full scale, communications sensors embedded in numerous objects will be connected simultaneously over the 5G network. The number of sensors to be connected will easily surpass 10 billion in Japan alone. Individual IoT connection will have low data traffic, therefore the tariff for such communications services is expected to be low. However, considering the volume and growth potential of IoT services, as well as its scalability to associated businesses, IoT services are expected to present significant business opportunities for the Group.
Generating new businesses
Development of cutting-edge business
models of
SoftBank Group's portfolio
companies in Japan
The Group is working closely with the portfolio companies of the ¥10 trillion SoftBank Vision Fund, and our sister companies Yahoo Japan and Arm as well as unicorns that the SoftBank Group has invested in, and the business partners of the SoftBank Group. Through the establishment of joint ventures and other initiatives with these partners, we will deploy industry-leading technologies and business models from around the world within Japan in fields such as FinTech, sharing economy, cloud services, AI, IoT, and robotics. These businesses have the potential to fundamentally transform people's lifestyle and redefine business, and thus to drive significant growth. To turn these businesses into future growth drivers, the Group will fully utilize the business resources it possesses in the telecommunications business, such as its solid customer base, sales force, engineers, sales channels, telecommunication networks, IT systems, and billing systems.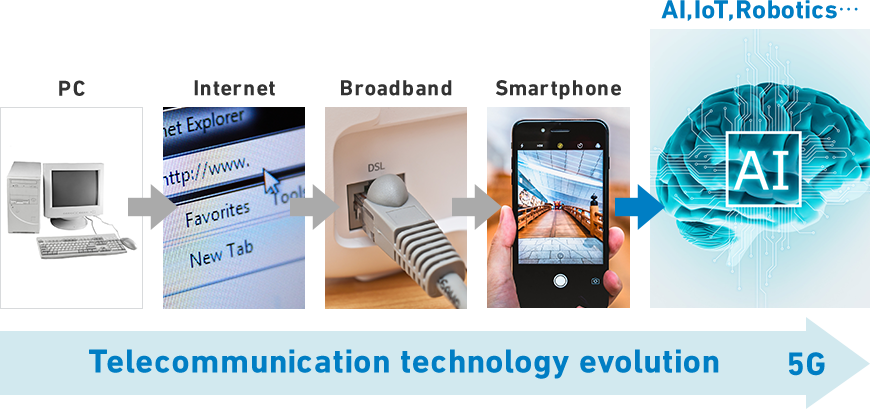 ※1

# of mobile subscribers includes Main subscribers (including smartphones, feature phones, tablets, mobile data communications devices, Wireless Home Phone and others), communication modules and PHS as of March 2018.

※2

The figure represents, as of March 2018, the proportion of listed corporates with annual revenue of JPY 100bn or more that have business with us (890 of 948 companies).

※3

The data is as of March 2018.

※4

The data is based on # of stores as of September 2018, which include directly-owned stores, dealers, mass electronics retailers and stores offering multiple carriers.
Structural reform
Further operational
efficiency improvement
The Group has been carrying out structural reform in parallel with its growth strategy. We are working to pursue improvement of efficiency and cost reductions by reshaping our business processes. Specifically, we are implementing the "Half & Twice" initiative to reduce the number of business processes and costs by half, and double productivity and creativity. The "Smart & Fun!" initiative is also under way to reduce work hours using AI and RPA. Business resources freed up as a result of these efficiency-boosting initiatives will be redirected from existing businesses to new businesses in order to drive future growth.