Addressing CSR challenges together with business partners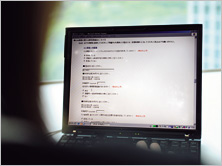 Details of each item are publicized on the websites of SoftBank to facilitate better understanding by business partners. In order to understand their efforts regarding each item of the Code of Ethical Purchasing, key business partners are asked for cooperation in answering questionnaires about their efforts. Should a violation of the code occur, business partners are requested to correct it without delay.
Promoting products that help reduce CO2 emissions
In order to contribute to the sustainable development of society, SoftBank Corp. established Green Procurement Guidelines to explain our fundamental ideas on green procurement to our partners. These guidelines are in accordance with proposals from the Ministry of Internal Affairs and Communications-sponsored Council for Safe and Secure Information and Communication Promotion, and the ICT Ecology Guideline Council's "Ecology Guidelines for the ICT Industry"*2. The guidelines aim to facilitate procurement of products that reduce CO2 emissions. SoftBank values the voluntary and proactive approach of all our partners. By working together on conservation, we can ensure that our business activities take the importance of the environment into account.
[Note]

*2

The council was established by the Telecommunications Carriers Association, Telecom Services Association, Japan Internet Providers Association, Communications and Information Network Association of Japan and the ASP-SaaS-Cloud Consortium on June 26, 2009 to take further industry-wide measures to prevent global warming.